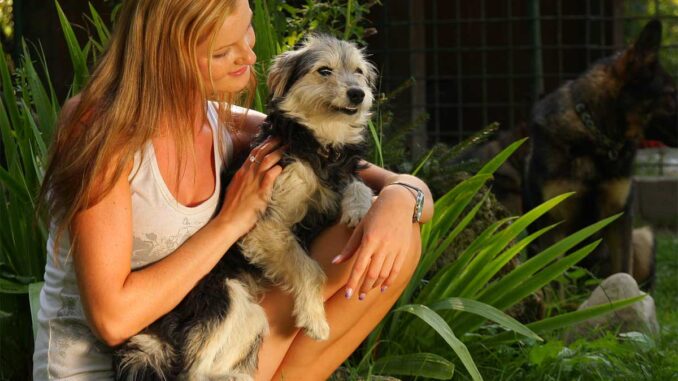 This article was updated on October 15th, 2023
Euthanizing your dog ("putting your dog to sleep") is one of the hardest decisions that a dog owner will have to make. The happy days with your loyal canine friend may be over and it's enormously difficult to say goodbye.
Whether we call it 'putting our dog to sleep', 'putting our dog down' or 'euthanizing our dog', it's a subject no one wants to talk about – and with good reason.
On this page, you will find an easy quiz to help you decide if it is time to euthanize your dog. Simply answer 6 questions to get your recommendations.
"Is it time to Euthanize my Dog" Quiz
If you would like to get our opinion on your own personal situation, click on the "Start" button on the image below to answer 6 questions about your dog:
When Is The 'Right' Time? Signs It's Time To Euthanize
So how do you know if now is the right time to euthanize your dog? This is probably one of the most common questions dog owners ask, and the most difficult one to answer. I've seen (and felt) the distress, pain, and internal battle that it causes.
In fact, there may not be a clear-cut 'right' time to euthanize your dog, but there is often (although not always) a window where it could be considered the 'best' time for a number of reasons.
There are some situations where the answer to this question is pretty clear-cut:
When a dog is in severe, chronic pain which can't be relieved
When a dog is critically injured and won't be able to survive the damage
If a dog's quality of life is so poor that he/she is merely 'existing' not 'living'
But, there are more 'gray' areas than black and white.
Which is the right choice to make when:
Our dog is in long-term chronic pain, but it IS relieved by medication/treatment
He isn't able to run/play and barely eats, but still seems to be comfortable
She has a terminal disease, but doesn't have any insurmountable symptoms – yet
Our dog is mostly anxious/confused but has short periods of being her 'old self'
He has no appetite, often refuses to drink, and has trouble with incontinence
There are also other potentially difficult situations, such as:
When a dog is aggressive to the point of being dangerous, and training, behavioral modification, and other treatments haven't helped.
When finances simply don't allow you to afford ongoing, long-term treatment for your dog's severe, chronic, and eventually terminal health conditions.
When your dog could survive for some time to come, but his life will be full of vet visits, painful treatments, anxiety, and stress… with no hope of recovery, just management.
All of the above clearly shows that there is NO single, one-size-fits-all answer to any of these questions. As owners, we know our dogs better than anyone else in the world.
Continue reading our page about Putting Your Dog to Sleep or click directly to the shortcuts below:
Related Posts about Euthanasia & Putting A Dog To Sleep:
Disclaimer: This website's content is not a substitute for veterinary care. Always consult with your veterinarian for healthcare decisions. Read More.