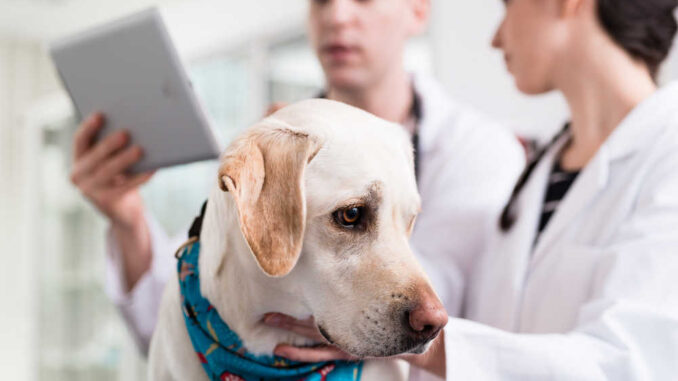 This article was updated on August 23rd, 2023

Making the decision to euthanize a dog with Cushing's disease is not easy;. Due to the slow progression of the disease, we, as vets, often build strong bonds with the pets through the many years of treatment and management of the disease. This article specifically focuses on the signs that your dog is dying from Cushing's disease.
In our article on euthanizing a dog with Cushing's disease, we reviewed the story of Millie, a 9-year-old Terrier, who I recently had to euthanize due to complications related to Cushing's disease.
With regular blood tests and changes to the drug we used, Millie manage to live a happy life for about two years.
However, one day, the owner had concerns that her behavior had changed, and she had started to become more aggressive at times. Unfortunately, her situation deteriorated quickly, with obvious neurological changes that impacted her behavior.
One form of Cushing's disease is caused due to a tumor in the pituitary gland. Millie's symptoms very much fit with the possibility of this tumor enlarging and putting pressure on the brain, which resulted in neurological symptoms. The treatment that had worked very well for over two years would unfortunately no longer be able to help in a significant way. There was no surgical option that could help.
Dogs with Cushing's disease will have varying symptoms depending on how far progressed through the disease timeline they are. The first symptoms can be subtle: lethargy, panting, and increased thirst.
Let's now review the signs and symptoms in the advanced stages of the disease.
Signs That Your Dog Is Dying from Cushing's Disease
Signs that your dog is in the advanced stages of the disease include the following:
Dogs will often develop a pot-bellied appearance, lose hair on their flanks and develop thin skin, as well as have recurrent infections due to an impaired immune system. While treatment aims to control these symptoms as best as possible, hyperadrenocorticism is a disease that gradually becomes harder to control as the tumor present in the pituitary or adrenal gland enlarges.
A dog in the end stage of Cushing's will be refractory to changes in medication; they are likely on the highest possible dose.
Symptoms will often start to recur to the point where the dog is very lethargic, has an uncontrollable thirst and/or urination, and has repeated infections such as skin infections or urinary tract infections.

Dogs with the pituitary-dependent form of hyperadrenocorticism can start to develop neurological abnormalities as an expanding pituitary gland tumor puts pressure on the surrounding brain tissue. If your dog is displaying symptoms such as nervousness, aggression, disorientation, circling, or even seizures, then a pituitary tumor is the likely cause. Unfortunately, not much can be done in this case if they are non-respondent to increased doses of medication.
Making the final decision to euthanize a dog with Cushing's is not an easy one to make. Hyperadrenocorticism tends to be a slowly progressing disease in which symptoms gradually worsen over time. As such, there is usually not a clear-cut moment when a dog deteriorates.
Your dog's quality of life is the most important consideration when deciding when to euthanize. Ask yourself:
Do they still seem interested in their favorite things, and are they still excited to greet you when you come home?
Do they get out of breath easily, and are they reluctant to do any form of exercise?
Do they get repeated infections?
Are they constantly wanting to drink more water, and do they pee around the house?
Do they show any neurological abnormalities?
If the answer to these questions is not a positive one, then it is the right time to consider euthanasia – talk to your vet, as they can help you come to the right conclusion.
Related Posts about Cushing's Disease:
Disclaimer: This website's content is not a substitute for veterinary care. Always consult with your veterinarian for healthcare decisions. Read More.