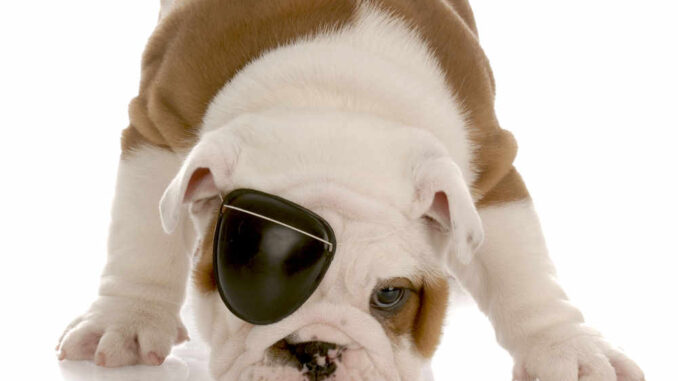 This article was updated on March 5th, 2023
Dogs can lose eyes for a variety of reasons including injury, infections, and cancer. When your veterinarian needs to surgically remove your pup's eye, the socket can be tender and vulnerable at first. One way to protect your pup's missing eye is by covering it with an eye patch.
In this article, I'll discuss how eye patches can help dogs with a missing eye and the pros and cons of using one. I'll share my top picks for eye patches and provide a guide to help you choose the right product for your dog's needs.
When can an eye patch help your dog?
Eye patches for dogs are usually a temporary protective measure when our furry friends suffer from an eye disease or injury. The covering helps to protect the orb or an empty socket during the healing and recovery period.
Using an eye patch is a useful tool to help treat or cure conditions including:
Corneal injuries including scratches and ulcers
Dry eye
Eye infections like conjunctivitis and blepharitis
Surgical removal of an eye
Lazy eye
When a dog has an eye surgically removed, an eye patch can provide protection during the healing period. Once the surgical wound heals, your pup will not need to wear a covering.
Pros and cons of eye patches for dogs
Eye patches can be helpful for some dogs with a missing eye or other eye conditions, but they're not always the best option. Let's look at the pros and cons of eye patches.
Pros
Eye patches protect fresh wounds so they can heal
Eye patches block sunlight from injuries like corneal ulcers or scratches
Eye patches can help the curing process for some medical conditions like cherry eye and dry eye
Cons
Some eye patches have sharp edges or staples that can be dangerous
Dogs may paw the eye patch off and attempt to eat it
They're usually not very durable
They can be expensive
5 Best eye patches for dogs
When choosing an eye patch for your dog, look for a medical-grade product. It should be made of soft, breathable material and have no sharp edges or staples. It should have a strap or gentle adhesive to keep the patch in place. Below are my top recommendations for eye patches for your pooch.
This eye patch is made of medical-grade, breathable cotton to allow airflow to your pup's eye or surgical wound. The covering has a dome shape that prevents the material from touching or putting pressure on your dog's globe. The elastic headband is adjustable to fit your pooch's head. There are no staples or sharp edges that could scratch your pup.
As a budget-friendly product, this eye patch has some limitations. The fabric is soft and will protect the eye, but the elastic tends to stretch and loosen over time. Fortunately, in most cases, a dog only needs an eye patch for several days to a few weeks.
With a 3-D groove design, this patch will protect the eye without pressing against the tissues. It's made of breathable cotton to allow airflow to the injured or diseased area. The strap has a sewn attachment and is fully adjustable. It slips easily over the head to cover the socket.
If you purchase this product, be aware that the straps can stretch or break easily. It may loosen and come off your dog's head readily after a few days of use. Only use the eye patch when you can supervise your pooch.
Another eye patch made with cotton and foam, this product from Lassum has a molded cup to help protect your dog's socket without applying pressure to the orb. The strap is an elastic band that can be adjusted to fit your pup's head size.
When using this patch, observe your dog for signs of discomfort. The edges may rub against his fur and skin. The metal adjustment clip can also dig into the skin of some dogs.
The Missix 3D eyepatch has a 3D groove design and breathable fabric to protect your dog's socket. The strap is sewn to the patch to reduce the risk of injury. It has an adjustable velcro touch elastic band to fit the patch to your dog's head.
The velcro band has limited adjustment capability and is more difficult to fit as compared to products with an adjustable clip.
If you're concerned that your pooch will rub or scratch at the elastic band and remove the eye patch, this adhesive product from See Worthy may help. The opaque patch is made from breathable, latex-free, hypoallergenic materials. It has a gentle, residue-free adhesive to affix the covering to your dog's face. With 48 patches in a box, this is a useful option when you need to change the patch frequently.
This product is more expensive than eye patches with straps. Additionally, the patches may fall off if they get wet. Make sure you leash-walk your dog to help prevent him from getting the dressing wet. Adhesive patches tend to be flat to the eye and may press against the wound.
Disclaimer: This content is not a substitute for veterinary care. Always consult with your vet for health decisions. Learn more.
Three Potential Alternatives to eye patches
Eye patches don't work in every situation. Fortunately, there are some other options you can use to protect your dog's socket after enucleation.
E-collar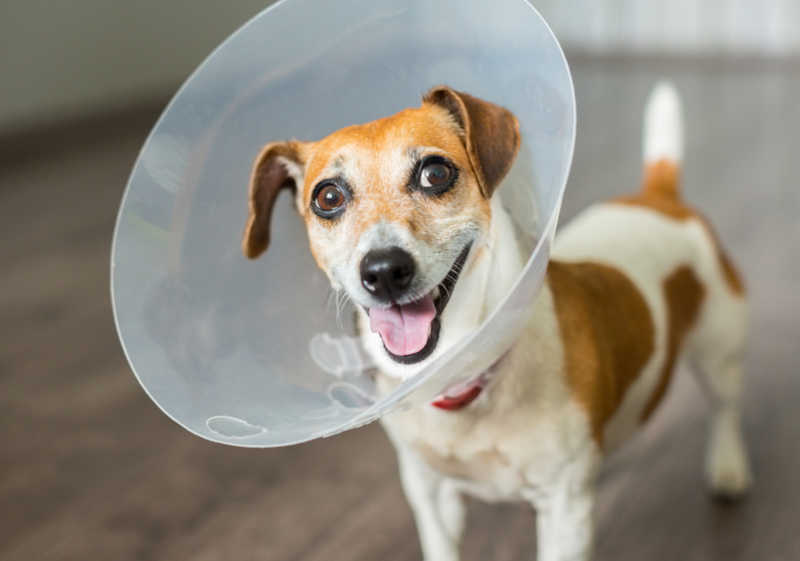 Your veterinarian may prefer placing a cone over your dog's head to prevent self-injury after enucleation surgery. With an e-collar, your pooch will not be able to rub or scratch at the area.
Dog goggles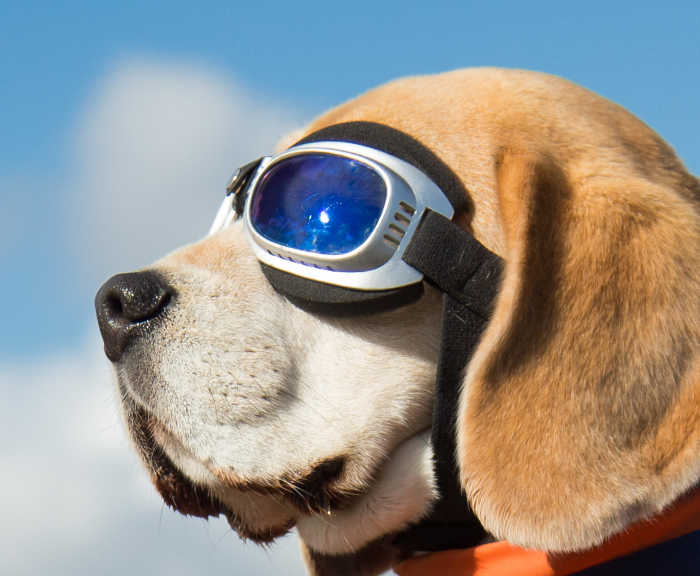 Goggles that resemble ski masks also protect the surgery area from rubbing and scratching. Because the shield is closer to the head, it provides greater mobility and visibility for active dogs. The goggles can be tinted to provide UV protection. One drawback of goggles is that they may shift on the face and rub against the affected area. Goggles also need to be removed any time you need to apply medication which increases the risk of bumping the surgery site.
---
WATCH: 3 Important Tips To Care For an Old Dog [VET VIDEO]
---
Visors
Resembling a transparent welding mask, a dog visor provides a shield across the face and eyes to protect injured eyes or surgical sites. These products have a chin strap and velcro collar to hold the visor in place. Like goggles, they allow your pooch more mobility and visual range than an e-collar. See an example here (ProtectivePetSolutions.com).
Eye patch buying guide – 4 things to look for
Although we provided five top recommendations for eye patches, we know they may not work for every dog. To help you find the best option for your furbaby, we've included a buying guide below.
1. Material
When choosing an eye patch for your dog, you want a product that uses soft, breathable material. It should be thick enough to filter out light and debris while still allowing air to get to the area. Cotton is one of the better fabric options.
2. Hypoallergenic
The last thing you want for your furbaby is to add to his discomfort when he has an eye condition or is recovering from enucleation surgery. Choose a product made with hypoallergenic and latex-free materials to help prevent skin irritation and scratching.
3. Patch shape and size
Choose a patch that fits your dog's eye. You also want to select a product that has a domed or cup shape. This helps ensure the patch will not press against the eye or surgical wound. It also allows for better airflow to promote healing.
4. Head strap or adhesive
You'll need to consider your dog to determine how to secure the patch to his head. For most dogs, an adjustable eye strap is preferred. Look for a product that does not use staples to attach the straps to the patch.
The other option is an adhesive patch, which works like a bandaid. Adhesive patches are best if your dog is likely to rub or scratch at the strap to try to remove it. In this case, look for a gentle adhesive that won't leave a residue.