This article was updated on March 31st, 2022
Old Dog Vestibular Disease can be triggered by a number of things, including inner ear problems, a collar-related injury, a brain tumor, or a nervous system dysfunction.
However, there is often no clear trigger or underlying issue that can be found, and the condition arises spontaneously. Usually, dog vestibular disease resolves itself in the same way.
"Vestibular" refers to someone's sense of balance and body movement, and it can happen in people as well as dogs, though usually not until the dog is seven years old or older.
The "Disease" in the condition's name may sound scary, but this is almost always a fairly benign illness, and it is not contagious.
It affects the nerves that co-ordinate the messages between a dog's eyes, inner-ear, and body. You could say it scrambles them to some degree.
In a nutshell, Old Dog Vestibular Disease affects your dog's balance.
Being able to balance is a pretty fundamental ability, so losing balance makes life very difficult, The symptoms can look pretty scary, and they must feel awful for your pet friend.
If you've ever suffered from a bout of vertigo yourself (or even been really, really, drunk!) you'll have some idea of how he's feeling. Luckily, this problem is generally not nearly as serious as it looks, and most dogs make a full recovery, with little to no treatment.
This condition is also known as Old Dog Vestibular Syndrome, Idiopathic Old Dog Vestibular Disease, Peripheral Vestibular Disease, or even (incorrectly) "Old Dog Syndrome."
In this article, we will review frequent symptoms and treatment options. We will then share 8 important tips to help your dog. Finally, we will let you know how to avoid more episodes.
Here's what you need to know:
Symptoms Of Old Dog Vestibular Disease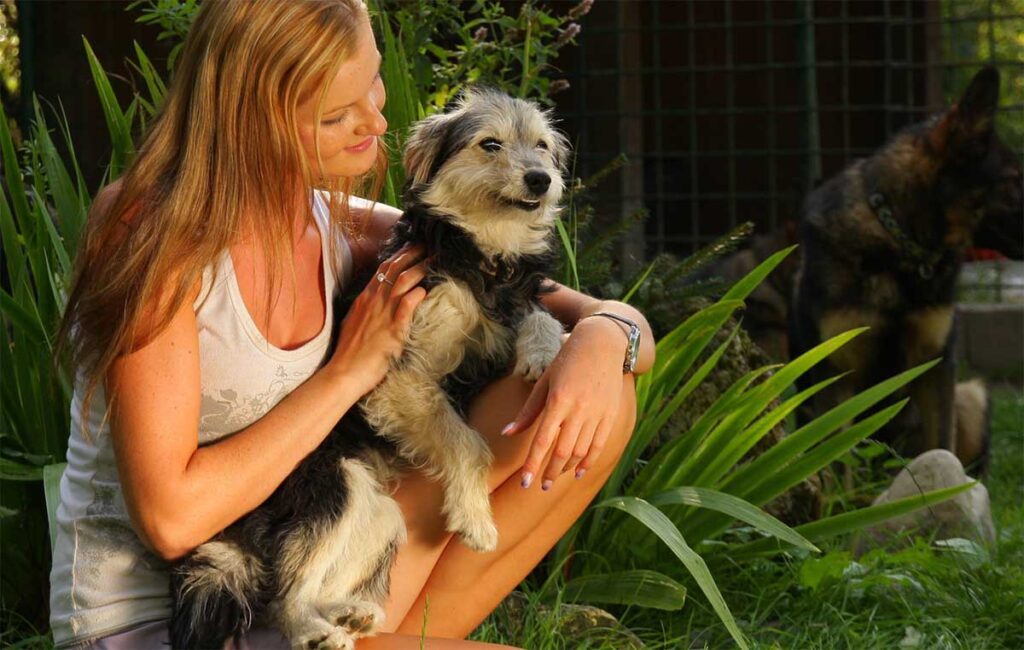 The signs of Old Dog Vestibular Disease come on very suddenly and are dramatic.
This means that it's easy to panic and think that your dog has had a stroke or has brain damage. Luckily, the odds of either of these happening are much lower.
There are 2 types of Vestibular Disease: Peripheral Vestibular Disease and Central Vestibular Disease.
Symptoms of Peripheral Vestibular Disease in dogs include:
Loss of balance – stumbling, staggering, circling, falling down, rolling around
Head tilt – head is held oddly, usually tilted at an angle of about 45°
Erratic eye movements – horizontal, back and forth movement (may roll, too)
Nausea and/or vomiting
Your dog may not have all these symptoms, but he's likely to have at least two of them. Loss of balance and nystagmus (the erratic eye-movements) are the most common. However, nystagmus often quickly resolves and can also be overlooked due to confusion with excessive blinking.
There is another form of this condition called Central Vestibular Disease. This is when the brainstem part of the brain is directly affected, rather than the inner ear or nerves that go to that region.
Disclaimer: This content is not a substitute for veterinary care. Always consult with your vet for health decisions. Learn more.
It is more serious, not included in the more common Peripheral Vestibular Disease, and shows slightly different symptoms.
The causes of the central type of this disease are also more serious and may include:
Brain damage or trauma
Brain tumor
Systemic infection or inflammation of the brain
Fungal infection of the brain
Tick-borne illnesses such as Rocky Mountain Spotted Fever
Toxoplasmosis
Stroke
Symptoms are similar to Peripheral Vestibular Disease, but the nystagmus (eye movements) may not be exclusively horizontal. These eye movements may change when your dog's head position changes, may be vertical, horizontal, rolling, or erratic.
Only a veterinarian can distinguish between the two by running tests.
Here's a video that shows what symptoms look like:
Causes Of Old Dog Vestibular Disease
Old Dog Vestibular Disease can show up out of the blue for no apparent reason. Vestibular disease isn't solely a condition which affects only senior dogs, but it is most often seen in dogs who are middle aged or older.
The disease is often idiopathic, meaning it occurs for no known cause. However, your vet may still be able to find an underlying cause, so it is important to do a full medical exam.
Causes of canine peripheral vestibular disease may include:
---
WATCH: 3 Important Tips To Care For an Old Dog [VET VIDEO]
---
Ear infection or inflammation
Perforated tympanic membrane (also known as the ear drum)
Viral infection
Reaction to a medication
Injury to neck caused by collar, a fall, or some other incident
Only a veterinarian can make a reliable diagnosis. After an initial exam, your veterinarian will be able to tell you whether more tests are needed.
Treating Peripheral Vestibular Disease In Dogs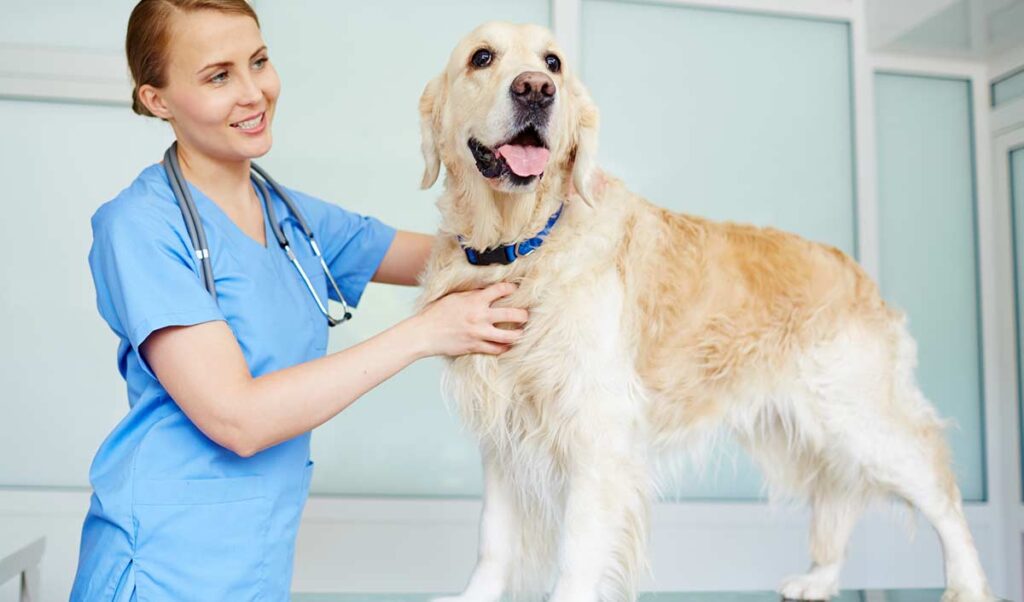 The peripheral form of the disease is often a self-limiting condition. This means that it improves with no intervention if given time.
Most dogs will start to improve within 2 to 3 days, and will be totally recovered within two to four weeks. More severe cases may take up to six weeks to be fully recovered.
Although chances are good that your dog has the Peripheral form of the disease, your dog could also be suffering from Central Vestibular Disease. You can only be sure by taking him to the vet for a proper examination.
Only a veterinarian can make the diagnosis.
While the treatment depends on the cause, there are also some things you can do to help your dog cope with the difficulties he's experiencing.
Symptoms of Old Dog Vestibular Disease such as nausea and vomiting can be reduced or controlled by medications prescribed by your vet (similar to the meds you take for motion-sickness).
Anti-nausea drugs may be recommended by your vet and these can make your dog feel more comfortable.
Anti-inflammatory medications or antibiotics may be prescribed if your senior dog shows signs of an ear infection or problem.
Sometimes corticosteroids can help reduce the symptoms of vestibular disease if it is caused by inflammation or swelling.
Obviously, if the examination shows any signs that there's something more serious going on, then other treatment options for the underlying issue will be needed.
For dogs with simple idiopathic vestibular disease, the rest of the treatment is just supportive care.
That means helping your furry friend manage his day-to-day life. This is tricky when he can't balance properly and his eyes have trouble focusing.
8 Tips to Help a Dog With Vestibular Disease
Here's what you can do to make your dog's life easier:
1. Keep Your Dog Quiet and Rested As Much As Possible
Staggering and stumbling around is scary for your dog, so try to minimize the space he has to move about. If he is used to being crated and is comfy there, this can really help and you can use the crate more than you normally would.
If your older dog is not using a crate, now is not the time to start. Instead, try to confine him to a smaller area.
2. Help Him Walk, Eat, Drink, and Potty
When he needs to go outdoors to relieve himself, help him stay upright. An older dog could really hurt himself if he falls down steps or onto a hard surface or walks into a wall or tree.
Protect him from himself until his balance comes back.
Sometimes using doggie diapers can be helpful (especially at night) because a dog who is dizzy and sick doesn't notice or respond to potty cues quickly enough.
But don't completely rely on a belly band or diapers. Make the effort to get your dog to his potty spot regularly and encourage normal potty habits whenever possible.
3. Make His Meals More Appealing
Make his meals more appealing by adding tasty gravy or a canned food to his kibble. Encourage him to eat while lying down if he'll cooperate. If your dog insists on standing, stay beside him to hold him up.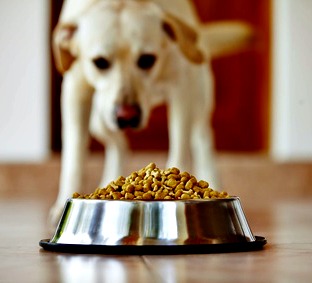 It can be tricky for your dog to eat even if he wants to because his eyes flicker and move involuntarily and make it difficult for him to focus. Some dogs pretty much refuse to eat, or the physical symptoms make it very difficult for them to do so. This stage generally only lasts a few days.
In addition to swaying from side to side and generally struggling to keep their head focused on the food bowl, dogs with vestibular disease often don't want to eat because they feel sick. Anti-nausea medicines prescribed by your veterinarian can help with this. Learn more with our article How to Feed a Dog with Vestibular Disease.
4. Use Supplements:
To make sure that your pet gets some nutrition during this stage, you can try liquid nutritional supplements such as PetAG's Dyne liquid supplements or Tomlyn's Nutrical Nutritional Gel, as featured in the two listings below:
Sale
Both are nutritionally dense and will give your old dog valuable nutrition. Your vet may have these supplements or you can order them online through the links above.
5. Make it Easier for Them to Drink and Eat
Drinking poses the same problems, but your dog MUST drink or he'll get dehydrated, so the same help is needed here. Pedialyte contains vital electrolytes, so try to give your dog a little of the unflavored variety as well as water, if you can (learn more about Pedialyte on PetMD).
6. Use Omega 3 to Reduce the Chances of Further Episodes
Although there are no treatments that are guaranteed to prevent further episodes of old dog vestibular disease, there are a few things you can do to help your dog heal completely and possibly reduce the chances of experiencing the whole thing again. Giving an Omega 3 EPA and DHA Fish Oil will help your dog's body to heal and regenerate to its full potential. We recommend the following from Ascenta: Ascenta Canine Omega3 Supplement, 200ml
7. Consider Medication
If your senior dog still won't or can't drink or eat, then discuss it with your vet. Your vet might want to give Fido some IV fluids to make sure he stays hydrated, or anti-nausea medicine if your dog is feeling nauseous and don't want to eat.
8. Monitor Progress and Recovery
The majority of dogs will show signs of improvement within about 72 hours, and be fully recovered within 2-4 weeks. But, if your old dog doesn't seem to be any better after a couple of days, or he gets worse or shows other symptoms, get him back to your vet asap.
INFOGRAPHIC: 8 tips to help your dog with vestibular disease:

How to Feed a Dog With Vestibular Disease
If your dog suffers from vestibular disease, you'll know how much they can struggle to eat. Many dogs with vestibular syndrome will tilt their head, stumble, circle, and even collapse to the floor.
In addition to swaying from side to side and generally struggling to keep their head focused on the food bowl, dogs with vestibular disease often don't want to eat because they feel sick. Anti-nausea medicines prescribed by your veterinarian can help with this. You can read the list of changes we recommend to make to make the act of eating as simple as possible for your dog in our article: How to Feed a Dog with Vestibular Disease, by Dr. Alex Crow.
How to Reduce the Risks of More Vestibular Disease Episodes
The majority of dogs will be fully recovered from a bout of Old Dog Vestibular Disease within about 2-4 weeks. Usually all symptoms will have faded away, although sometimes the head-tilt or a little loss of coordination will linger.
It's rarely enough to cause any real problems and shouldn't impact your senior dog's quality of life.
However, you should also know that once a vestibular disease episode has happened once, your dog has an above-average risk of having another. New episodes are usually similar to the first one in both severity and duration.
Although this isn't ideal, the good news is that if your dog has another episode, you'll know what it is right away and won't feel so panicked. Plus you'll be able to get him any medications he needs, and know how to help him through those first difficult days.
Although there are no treatments that are guaranteed to prevent further episodes of Old Dog Vestibular Disease, there are a few things you can do to help your dog heal completely, and possibly reduce the chances of experiencing the whole thing again. These include:
Giving an Omega 3 EPA and DHA Fish Oil to help your dog's body heal to its full potential. We recommend the following from Ascenta:
Give a premium vitamin/mineral supplement daily to make sure all body systems have the nutrients they need to function properly. A few examples of these supplements are featured below:
Premium vitamin or mineral supplements on Amazon:
Collar-related injuries can cause vestibular problems, and an accidental pull or jerk could trigger an episode. It's best to use a harness rather than a collar when walking your dog if they've had vestibular disease previously.
Complementary health practices such physiotherapy and acupuncture can all have benefits after the initial recovery period.
Allergies can cause chronic ear infections in dogs which can lead to vestibular episodes. Your vet can help you decide if this might be a problem for your senior dog.
Take things slowly and allow your dog to return to normal activities at their own pace.
Veterinarian FAQ with Dr. Alex Crow about Vestibular Disease
Owners of dogs experiencing vestibular disease often ask us many questions. We have listed below the top 5 most frequently asked questions with answers from Dr. Alex Crow, Veterinarian.
1. How fast does a dog typically recover from Vestibular Disease?
Most dogs diagnosed with vestibular disease begin to make an improvement within the first 3 days; the most dramatic clinical signs of vestibular disease are evident within the first 24-48 hours and will usually begin to improve after this point.
Depending on the cause of Vestibular Disease, symptoms such as a head tilt and incoordination often disappear within the first 7-14 days, and many dogs will go on to make a full recovery within 2-4 weeks.
There are some cases where a dog may have a permanent head tilt, but generally this isn't of concern if they are well otherwise. If your dog doesn't make an improvement within the first week then further investigations are indicated.
If your dog shows no signs of improvement within the first 7 days, or if he is getting significantly worse, then the next step is to investigate why this may be. A dog that shows no improvement is suspected to have a more sinister underlying cause for his vestibular symptoms and advanced imaging with CT/MRI scans is likely necessary.
One concern would be a lesion within the brain that had led to the unusual vestibular symptoms seen. A specialist vet is usually required to investigate further so talk to your local vet about a referral if necessary.
3. What should you do with Vestibular Disease recurrence?
The first thing you should do if your dog's vestibular disease recurs is to take him back to your vet. Depending on how long ago his last vestibular episode was, any recurring symptoms may or may not be related to his previous episode.
If your dog's vestibular disease is recurring regularly, then the prognosis may be poorer, especially if the time between episodes is shortening. Read our article on the Recurrence of Dog Vestibular Disease.
4. How long can a dog live with vestibular disease?
This will depend on the cause of the vestibular disease. Vestibular disease is simply a result of a more serious condition that could be fatal to your dog:
Dogs with idiopathic vestibular disease or an ear infection may make a full recovery within 2-3 weeks and continue to live a normal healthy life.
Dogs that develop vestibular disease due to a trauma or a brain tumor might have a shortened lifespan because of this; exactly how long dogs will live with vestibular disease will depend on the severity of the trauma or tumor.
Learn more with our articles: "How Long Can Dogs Live with Vestibular Disease?" or "Can Vestibular Disease Kill a Dog?".
5. What are some safe exercises for dogs with Vestibular Disease?
It's vital that you keep your dog with vestibular disease fit and moving, furthermore re-teaching him to balance himself will be a vital part of their rehabilitation. Only perform exercises with your dog once your vet has given him the all-clear to do so.
If your dog is struggling to stand on his own, then using a sling or rolled up towel under his chest and belly will give him support.
Start in a standing position and build up to 5-10 minutes of standing, trying to release the pressure on the sling as you progress. That way your dog will learn to support his own bodyweight and remain balanced over time.
Once your dog can maintain his balance, gradually start walking with your dog while keeping the sling in place for support.
Core strength will be vital for a dog with Vestibular Disease as it will help him maintain a solid foundation. Have your dog stand up and gently squeeze your dog's tummy until you feel him tensing his abdominal muscles against you. Repeat this regularly to help build abdominal strength.
Another exercise is to have your dog in a standing position, stand behind him with your hands on his flanks and gently rock your dog side to side. This will help teach your dog to maintain balance whilst a lateral force is applied.
Perform this routine every day until your dog is comfortable walking on his own accord. Stay within his comfort zone and accept that he may never be able to walk completely normally again; it's all about what compensations you can make as an owner to allow your dog to still live a relatively normal life.
6. Can CBD oil or Benadryl help with Vestibular Disease in dogs?
While there is no firm evidence for the use of CBD oil in treating Vestibular Disease in dogs, it might anecdotally have some benefits. CBD oil is thought to reduce nausea and help to alleviate stress, both of which are symptoms that can be associated with Vestibular Disease. CBD oil is no substitute for medication, however, and if your dog requires a very specific drug for his form of vestibular disease, then CBD oil is going to have little effect.
CBD oil still hasn't received FDA approval for use in animals but appears to be well tolerated with little to no side effects in dogs, so it is up to the owner's discretion whether they want to try it out.
Benadryl is an antihistamine medication that is sometimes used in dogs for the treatment of motion sickness. Benadryl isn't a cure for vestibular disease, but can certainly make your dog feel less dizzy and more comfortable. Look out for signs of allergic reaction such as vomiting, swelling, or difficulty breathing, as any dog can react to any medication. Always consult your vet first before starting your dog on any form of medication.
6. Do dogs with vestibular disease sleep more than usual?
Dogs with vestibular disease might sleep more than usual, but not always. They can become easily disorientated and as result become more drained than other dogs due to the increased energy that they need to expend concentrating on staying upright. They may also find it easier to lie down in bed then move about because of the difficulty they have navigating the environment. It's best to let your dog with vestibular disease rest if they want to do so.
Other Helpful Posts About Vestibular Disease:
Is My Dog Having A Stroke, or Is He Suffering from Vestibular Disease?
The symptoms of vestibular disease are often mistaken for a stroke by panicked dog owners.
This isn't surprising as the symptoms can be quite similar. Although the odds are in favor of vestibular problems rather than brain issues, a dog can have a stroke.
Here is a quick look at what occurs when a dog has a stroke, and what makes it different from vestibular problems.
Dog Stroke
A stroke is the result of either:
A blood clot – called an Ischemic Stroke/Attack
A hemorrhage in the brain – called a Hemorrhagic Stroke
A clot, or bleed, can be caused by a range of health conditions including heart disease, diabetes, cancer, thyroid problems, injury, inflammation, blood clotting disease and more.
Ear problems in dogs are not a trigger for stroke.
Advanced age can also be the cause of a dog experiencing a stroke.
The symptoms of a stroke in dogs have some similarities to symptoms of Vestibular Disease, but there are some subtle differences.
These symptoms are similar to those seen in a vestibular episode, but the unusual eye movements are not exclusively horizontal.
Loss of co-ordination
Stumbling or falling over
Head tilt
Abnormal eye movements (may move vertically/horizontally/roll)
These symptoms are not likely to be seen in dogs with Vestibular Disease:
Abnormal eye position (eyes not co-ordinated)
Loss of vision
Loss of hearing
Excessive Drooling
Confusion
Paralysis
Loss of consciousness
A Transient Isechemic Stroke (TIA)
A TIA is a sort of "mini-stroke" and usually happens when blood supply to the brain is decreased due to a blood clot which forms and then either breaks up or moves on.
Once a dog has had one Transient Ischemic Stroke, the chance of his having subsequent ones increases. Sometimes a full-blown stroke will occur at a later date.
The symptoms of a TIA could resemble those of vestibular disease and/or a full stroke.
However, a Transient Ischemic Stroke is usually short-lived, normally lasting for thirty minutes to a couple of hours.
The symptoms of a TIA come on very quickly and subside very quickly, too.
With Old Dog Vestibular Disease, the symptoms generally resolve over a period of days, taking up to two weeks for a dog to return to normal.
With a full stroke, symptoms can take weeks or months to lessen, and treatment is required to get to that point. Unfortunately, sometimes they can be fatal or leave long-lasting effects.
Duration of symptoms and degree/speed of recovery is important for diagnosis.
Only your vet can make an accurate assessment/diagnosis, and this is critical to making sure your furry friend gets the right help and the best chances of making a full recovery.
Any dog experiencing the symptoms on this page (to whatever degree) needs to be examined by a vet as soon as possible.