This article was updated on January 2nd, 2023
Pet parents of epileptic dogs report success in reducing the number or severity of seizures with dietary management and nutritional supplements (Source). In this article, we'll look at some research regarding the effect of diet and dietary supplements on seizures in dogs. Our discussion will include:
foods you shouldn't feed to a dog that has seizures and
the best commercial and homemade foods for epileptic dogs.
We'll also discuss dietary supplements that may help dogs with seizures and whether food allergies can trigger seizures.
Can food help dogs with seizures?
Some dogs are considered drug-resistant, so anti-epileptic drugs don't achieve the desired level of seizure control. Fortunately, there is some evidence that dietary therapy may help manage the frequency and severity of seizures.
Several studies suggest that dietary management and supplementation can help support the effectiveness of anti-epileptic medications in dogs. For example:
A 2015 study of a medium-chain triglyceride (MCT)-rich ketogenic diet fed to 21 dogs yielded promising results. Dogs showed a significantly lower frequency of seizures on the diet.
Another study published in 2020 evaluated the effectiveness of MCT oil supplementation to reduce seizures. 28 dogs participated in a 6-month randomized trial. Results suggest that dietary supplementation with MCTs can help manage seizures in dogs.
In a 2009 case study involving a Great Dane with epilepsy, clinicians reported that the frequency of seizures fell by 85% after 50 days of supplementation with omega fatty acids. Results were tracked for the next 18 months.
What should I feed a dog that has seizures?
Seizures are usually idiopathic, but some have a nutrition component. Because of this, choose food with high-quality ingredients and no artificial additives. Select products with:
Natural ingredients
High levels of quality animal proteins to support brain function
Animal fats to provide essential fatty acids for proper neurologic function
Omega fatty acids
B vitamins
The best commercial foods for dogs with seizures
The key to finding commercial dog food is to look for a product that:
Is high in quality proteins
Contains moderate levels of fat from animal sources
Has no artificial ingredients
Is low in complex carbohydrates
Uses natural ingredients
Below are three of the best commercial foods you can feed your dog with seizures. If none of these formulas suit your pooch, use the guidelines above to select something that fits his needs.
With 46% protein from salmon and less than 5% carbs, this ketogenic food from Ketona contains natural ingredients. It's free of grains and other complex carbohydrates and has no artificial additives. A balanced blend of vitamins and minerals helps to ensure proper nutrition for your pooch. The moderate (16%) fat content comes from salmon fat, which provides a rich source of omega fatty acids to support brain health.
Origen original is a grain-free food with 38% protein sourced from whole meat ingredients. A blend of turkey, chicken, eggs, and fish ensures your pooch will get the essential amino acids his brain and body need for normal functioning. Omega fatty acids from flaxseed and fish support brain health. With 18% fat from animal sources, this food also provides your pal with key fatty acids for the neurons. It's grain-free and contains natural ingredients.
Featuring beef and pork as the top two ingredients, this food from Stella & Chewy's has 36% protein and 15% fat from animal sources. It's free of artificial ingredients and complex carbohydrates that might trigger seizures. Animal fats and salmon oil provide your pooch with omega and essential fatty acids that fuel the brain and support normal functioning.
The best homemade foods for dogs with seizures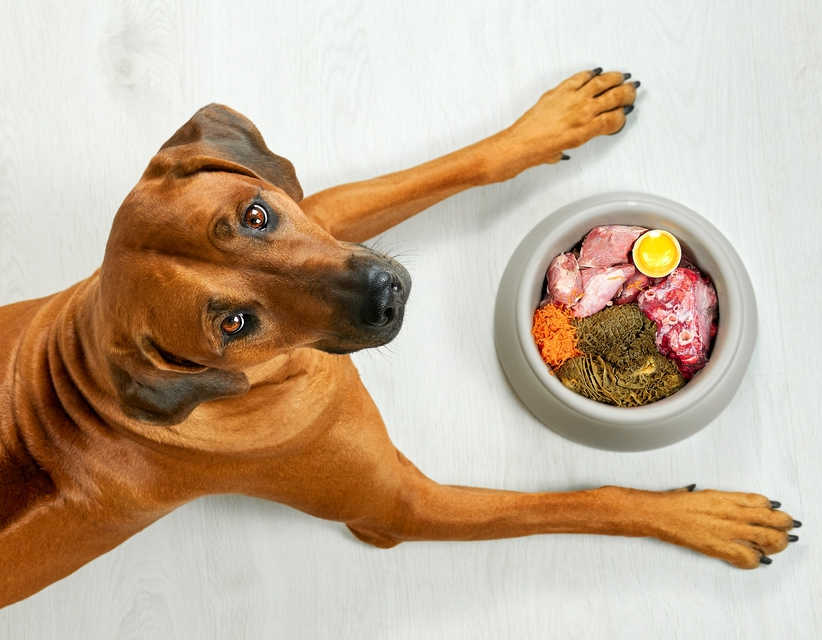 Some owners believe feeding a homemade diet to their dog can help with seizure control. If you choose to make your pup's dog food at home, the recipe should include:
Muscle meat and organ meat, including beef, chicken, and salmon
Animal fat
Gelatin from grass-fed animal sources
Cooked or pureed whole vegetables, including green beans and potatoes
A moist carrier like applesauce for multivitamin supplements
Multivitamin supplement
Omega fatty acids
MCT oil
Homemade dog food allows you to tailor the recipe to your pup's needs. If he's sensitive to certain foods or has triggers, you can avoid them and substitute other ingredients. Additionally, with homemade food, you can control how much fat, carbs, and protein are in the recipe.
There are also some risks associated with homemade food. Without a clear recipe, you may miss some of the essential nutrients for your dog. When feeding a raw food diet, you could introduce pathogens to your dog. Follow instructions and recipes when preparing a homemade diet to minimize the risks.
What are some natural supplements that help control epilepsy/seizures?
Some supplements that may help to control epilepsy and seizures in dogs include:
What foods should not be fed to a dog that has seizures?
Certain ingredients may trigger seizures in some dogs. Therefore, they should not be fed foods that contain:
High levels of salt, particularly if your pooch is on potassium bromide
Artificial flavors, colors, or preservatives
BHT, BHA, or ethoxyquin
Gluten
Complex carbohydrates
Casein
Dairy products
Corn
Soy products
Can food or allergies to food cause seizures in dogs?
Yes, some foods can trigger seizures in some dogs. Allergic reactions to food ingredients can trigger an episode. Toxins are another substance that may cause seizures. Foods to avoid include:
Foods already listed above
Glutamate
Xylitol
Chocolate
Grapes and raisins
Onions and garlic
Raw potatoes
Excess salt
Alcohol
Frequently Asked Questions
Does a ketogenic diet help reduce seizure activity in dogs?
Recent clinical studies suggest that a ketogenic diet may help reduce seizure activity in dogs. One study followed 21 dogs over 6 months and found an average 13% reduction in epileptic events across the group. Learn more.
Disclaimer: This content is not a substitute for veterinary care. Always consult with your vet for health decisions. Learn more.
Do raw diets help dogs with seizures?
Raw diets may help dogs with seizures because they rarely contain harmful substances or additives that could trigger an episode. The most effective raw diet will be high in quality proteins and moderate in animal-based fats. Pet parents of epileptic dogs have also reported success in reducing the number or severity of seizures with dietary management and nutritional supplements (Source). In this article, we explain the positive effect of diet and dietary supplements on seizures in dogs:
Is a grain-free diet important for dogs with seizures?
Grains can be a trigger for seizures in epileptic dogs. Therefore, it's important to choose grain-free options for your pup if he struggles with seizures. Read our article: Can Food Cause Seizures in Dogs? A Vet Explains.
How long does it take a dog to recover after a seizure?
The recovery period varies widely and partially depends on the type and severity of the seizure. It usually takes anywhere from a few minutes to a day for a dog to recover.
What else can I do to prevent full seizure episodes?
To prevent seizures in your dog:
Work closely with your veterinarian to monitor your dog and ensure medication is effective
Remove identified triggers from the home if possible
If flashing lights are a problem, secure your dog in a shaded area during thunderstorms
Keep the environment calm and peaceful
Should you put a dog that has seizures down?
If your dog has an occasional seizure, there's no need to consider putting him down. However, when a dog has multiple seizures and doesn't respond well to treatment with anti-epileptic drugs, you should discuss euthanasia with your veterinarian. Repeated seizures or prolonged seizures can cause significant brain damage and impact your pup's quality of life. Learn more: Dog Seizures: When to Put Your Dog Down.
Learn more about seizures in dogs on Senior Tail Waggers:
Disclaimer: This website's content is not a substitute for veterinary care. Always consult with your veterinarian for healthcare decisions. Read More.