✔️Article written by a veterinarian & reviewed by our director Dr. Whittenburg, on Jan 2nd 2023. View our Editorial Process.
'Old Dog Syndrome' in dogs is similar to Alzheimer's disease in humans. There are lots of other ways that this condition can be (and has been) described, including 'senility' or 'dementia'. The scientific name for it is 'Canine Cognitive Dysfunction' (CCD), but it's often referred to as 'Old Dog Syndrome', or less commonly, 'Canine Dysfunction Syndrome' (CDS).
If your dog is showing one (or several) of these signs, you might be wondering if it's just 'old age' that's causing their problems or if there's an underlying health worry.
There's a lot more to canine cognitive dysfunction than the normal slowing down that accompanies the aging process.
Studies show that around 50% of dogs who are eight years old or older show some signs of this condition. By age eleven, it's over 60%. The information on this page will help you figure out whether or not your senior is showing signs of CCD (or Old Dog Syndrome).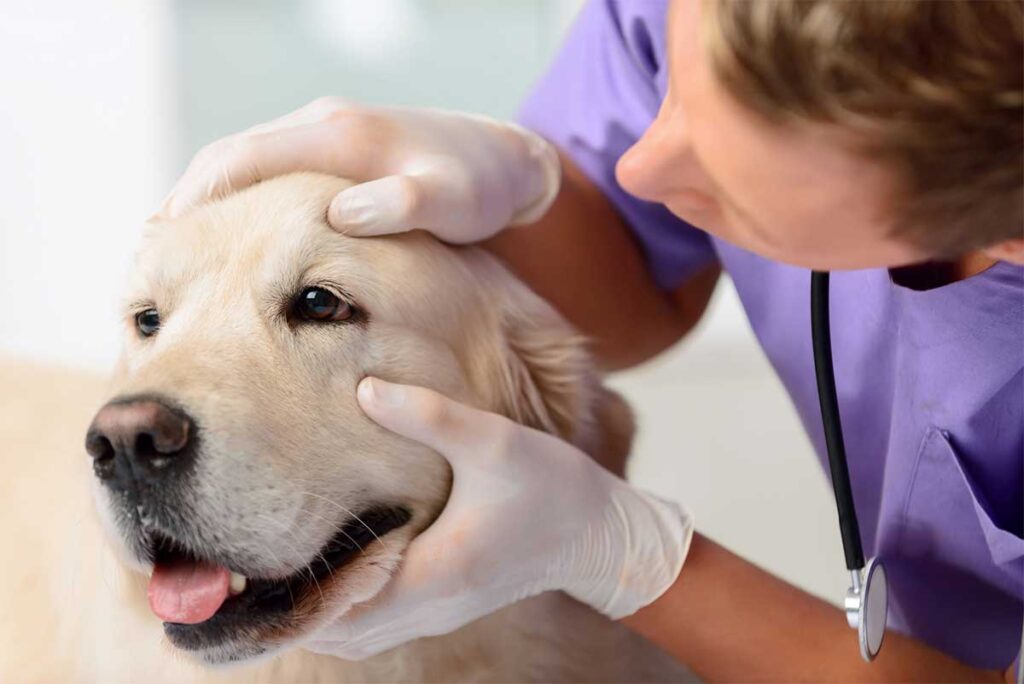 You'll also find all the tips and advice you need to choose the right treatment options and the best coping and management techniques.
Use can use these links to jump to…
Symptoms Of Old Dog Syndrome
There are a lot of different symptoms that might mean Fido has CCD… but many of them can also be signs of other health problems too.
Symptoms can be divided into two categories, physical and emotional/psychological.
Common physical changes that could indicate old dog syndrome:
Changes in sleep patterns
Loss of bladder, or bowel, control
Apparent loss of hearing or poor vision
Excessive shaking, trembling or panting
Loss of appetite, general disinterest in food
Seems to get 'lost' easily, even at home in rooms he's familiar with
'Blank' periods – sitting and staring into space, or 'checking-out'
Restless roaming, pacing or circling
Hiding or 'nesting' behavior
Impulsive, uncharacteristic behavior
Emotional/psychological/behavioral changes:
Disorientation/confusion
Less affectionate and social
Forgetfulness
Nightmares or night terrors
Personality changes
Separation anxiety
Diagnosing Canine Cognitive Dysfunction
Usually, you diagnose a health problem by looking at the symptoms, and this is true with CCD (Old Dog Syndrome) too… but it's not as easy as diagnosing a broken leg or an upset tummy.
The signs of Canine Cognitive Dysfunction Syndrome can be very subtle, and they can also point to more than one condition.
Every dog is unique and might show a different set of symptoms, or experience them to a greater, or lesser, degree.
So it's easy to see the problems facing owners and veterinarians.
There isn't one definitive blood test or diagnostic procedure that can diagnose canine cognitive dysfunction.
Researchers have found subtle changes in the brains of dogs with Old Dog Syndrome, similar to the changes that happen in the brains of human Alzheimer's patients.
But brain scans or other procedures aren't considered to be useful at this point and so aren't available for CCD testing.
Your veterinarian makes a diagnosis of canine cognitive dysfunction in two ways….