This article was updated on May 1st, 2023

Is your older dog not eating as much as they used to? If so, it's natural to worry – but not always necessary. There are lots of reasons why Fido's appetite might not be up to par.
One reason may be the normal aging process. It is also possible that the decreased appetite is caused by health problems (both minor and major). So, how do you know when your old dog's "appetite malfunction" is something that needs further investigation?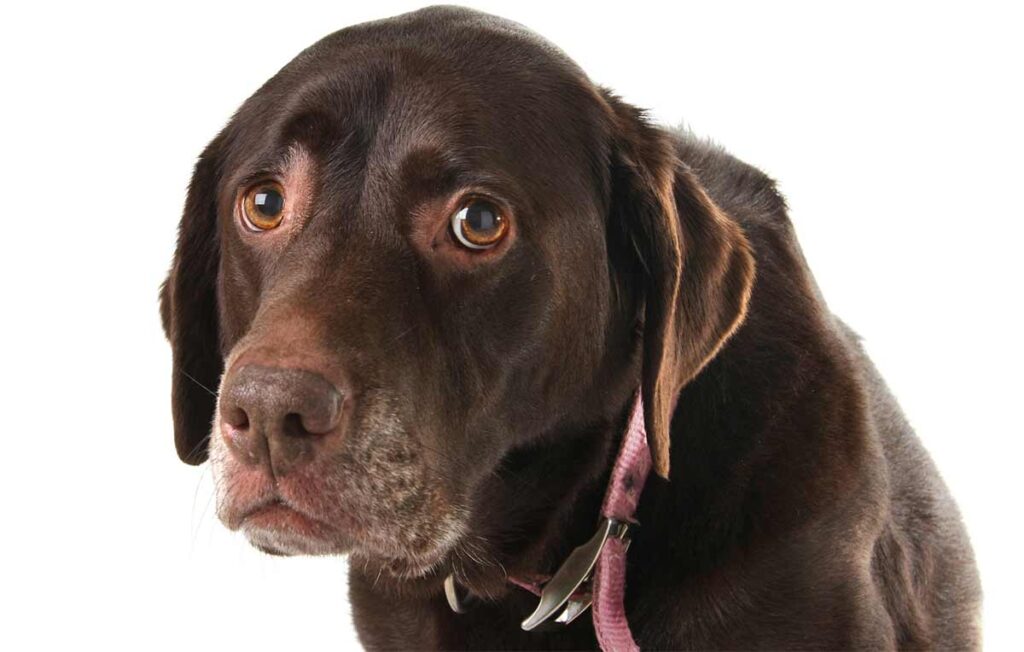 This page has the answers you're looking for. However, don't hesitate to contact your veterinarian as well if you feel you need help getting to the bottom of the cause. They will always be happy to help.
If you already know why your older dog isn't eating properly, and they don't need veterinary treatment, jump to our section on what to do when your older dog won't eat.
Tell Us About Your Dog To Get Personalized Information
Simply answer these questions below to get our personalized veterinarian recommendations (Or keep scrolling to continue reading):
Why Is My Older Dog Not Eating?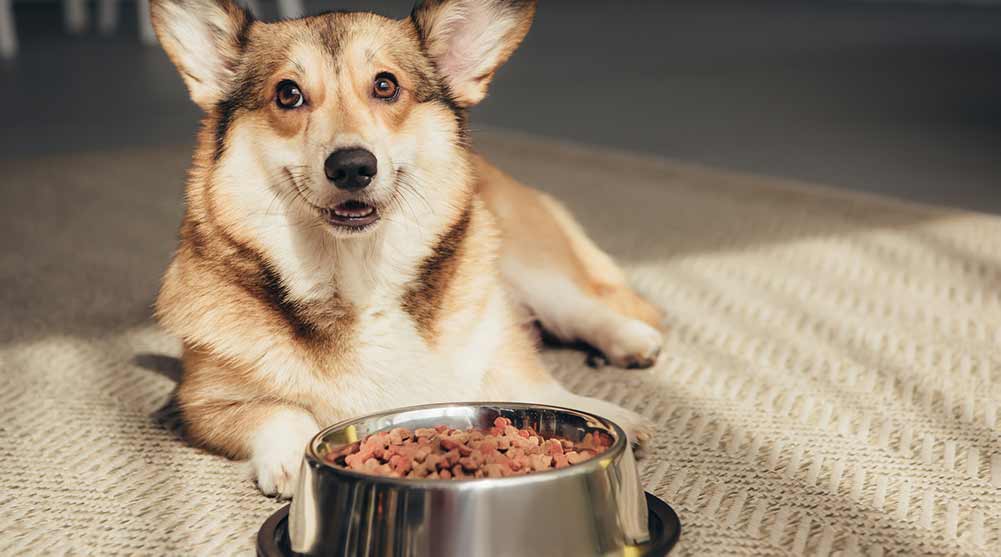 First of all, just to clarify, there is an important difference between "eating less" and "losing weight."
Is Your Dog Also Losing Weight?
Your dog's weight is as important as their appetite. A dog who isn't eating as much as they used to but is maintaining his weight is less worrying than one who is losing weight, either consistently or suddenly (regardless of the state of their appetite).
If Fido seems to be hungry all the time and yet is losing weight, that might mean there's a health problem such as diabetes. Thyroid issues can put appetite and weight gain/loss out of whack too.
If your senior dog suddenly refuses to eat at all, then they need to be seen by your veterinarian right away.
It's also important to differentiate between an old dog who's always been "picky" and gradually becomes more so, and one who's previously always loved his food but now has very little appetite or doesn't seem to care about it. The second scenario is much more worrying than the first.
Appetite is one of those things that can fluctuate on a fairly regular basis. There are a number of factors that can impact a dog's appetite. Dogs eat less when they're in pain, when they're stressed or anxious, when it's hot, when they're not getting much exercise, and so on. Unfortunately, with arthritic joints, pain is a common condition that older dogs can experience.
Puppies eat more than adult dogs per pound of body weight, whereas senior dogs tend to eat less than younger adults due to a slower metabolism and activity level. Eating less, or more, from time to time doesn't necessarily mean there's a problem.
But if your senior dog isn't eating on a regular basis, if they've lost interest in food, or if they are losing weight, then you need to figure out what's going on.
Most Common Reasons Causing Senior Dogs to Eat Less
Here are the most common reasons that cause older dogs to eat less:
1. Old Age
Sometimes just being a senior citizen is enough to take the edge off your dog's appetite. They probably don't get nearly as much exercise as they used to because their body isn't up to running, jumping, leaping, or chasing. A leisurely stroll down the street and back may seem like a marathon to them.
Also, they're sleeping more than they used to, and therefore burning fewer calories.
Disclaimer: This content is not a substitute for veterinary care. Always consult with your vet for health decisions. Learn more.
Lastly, as dogs age (humans too!), their metabolism naturally slows down. This means that it's more difficult for your dog to use their food efficiently, or quickly.
2. Dental Problems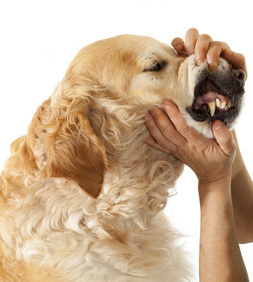 When your older dog isn't eating well, you may not think to look inside his mouth right off the bat.
But dental problems — such as broken teeth, gingivitis, cavities, or infections — can make eating very painful. Also, it's not only the inside of the mouth that can cause a problem; arthritis of the jaw joint can make chewing a sore process.
Generally, this is a pretty straightforward fix, requiring just a trip to the veterinarian for tooth extractions, dental cleanings, and antibiotics. With treatment, the result can be nothing short of amazing for dogs.
Many owners worry about how their senior dog might react under anesthesia for a dental procedure. But the good news is that medicine has advanced so much over the past decade, that the anesthetic drugs used are generally very safe. If you want to take an extra precaution, ask your vet to perform a pre-anesthetic blood test to check your golden oldie's internal health beforehand.
Until your senior dog's teeth are treated by your vet, you could try softening their food by soaking it in warm water or chicken broth, so it is less painful to chew. You may also switch to canned food.
3. Physical Health Conditions
There are a lot of different senior dog health issues that can cause your older dog to eat less.
Some of them are minor, whereas others can be serious, and may even become chronic.
The less serious ailments (although they are still ailments you should take your dog to the vet for) include a digestive system that's just not as efficient as it used to be, food sensitivities, constipation, a poor sense of taste/smell which makes his food less appealing, depression, cognitive dysfunction, dental problems (see above) or anything which is causing them to feel nauseous.
If you've got an older dog who's not eating, some more concerning possibilities include the following:
Addison's Disease
Kidney Disease
Heart Problems
Cancer
Liver Disease
There are often other symptoms as well as the appetite problem when your dog has a more serious illness.
These might include:
Weight loss/gain
Excessive thirst and urination
Panting, pacing, whining
Lethargy
Diarrhea or constipation
Vomiting
Overall, if Fido isn't eating the way they used to and is showing ANY other signs of not feeling well, your best bet is to get them a full veterinary exam. While many of these ailments are not a cause to make a call to your vet in the middle of the night, it's important not to take too long of a 'wait and see' approach with older dogs before going to the vet.
If your older dog isn't showing any of these symptoms and they are acting normally but just seem to be less interested in their food than they used to be, there are some things you can do to encourage them to eat more.
5 Easy Tips to Help Senior Dogs Eat More
1. Make His Meals Taste and Smell Better
The senses of senior dogs are changing. If your dog is no longer into their food because it just doesn't taste or smell as appealing as it used to, it's only natural that your dog won't be as excited about eating it.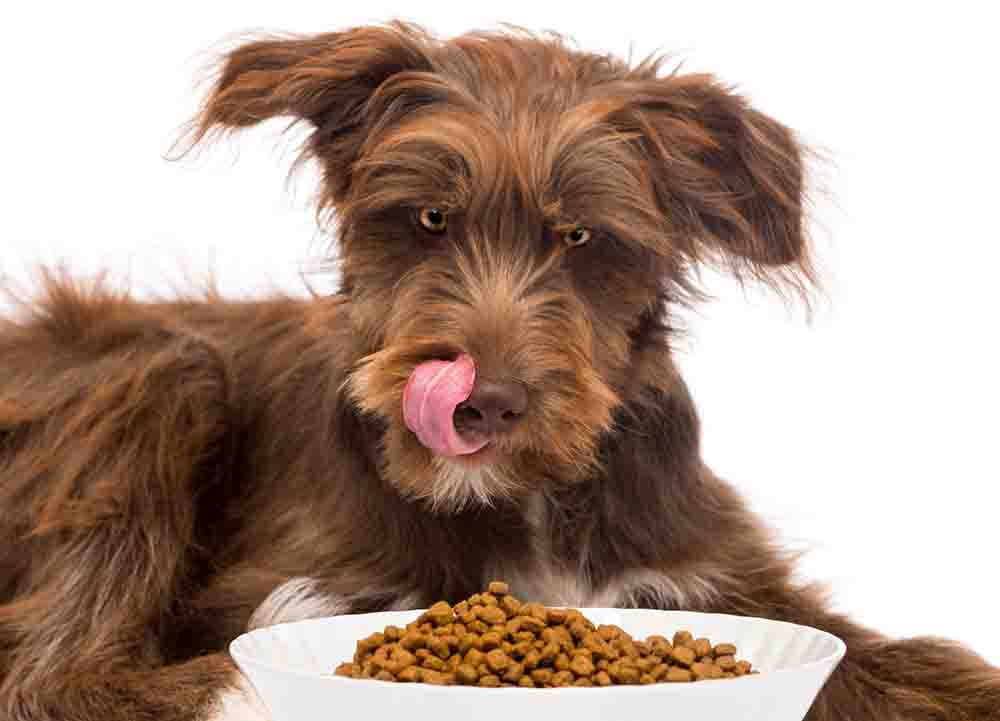 To make your dog's meals appealing, you can try the following.
Or clear (low-sodium) chicken broth:
Sale
Brutus Bone Broth for Dogs 64 oz | All...
SUPPORTS JOINT HEALTH: Every serving of Brutus Bone Broth for dogs is infused with Glucosamine and Chondroitin to support healthy hips and joints in all dogs including puppies and older dogs.
Add warm water to low-fat peanut butter until it becomes liquid:
BUDDY BUDDER Bark Bistro Company, Ruff Ruff...
✔️ HEALTHY DOG TREAT - if you wouldn't eat its why would you feed it to your dog, aka your furry family member? That's why we made an all natural peanut butter for dogs that's fit for human consumption. It two simple ingredients peanuts and honey. Theres no high fructose corn syrup, stabilizers, xylitol, artificial sugar, or salts.
Your senior dog might also love a little extra canned (wet) dog food, low-fat cottage cheese, dried Parmesan cheese, egg whites, or yogurt added to their food.
We recommend that you always consult with a veterinarian before changing your dog's diet. For example, you should be aware that some low-fat peanut butter contains xylitol (an artificial sweetener) which is very toxic to dogs. Make sure to read the label of any product you buy first. Or even better, buy dog-specific peanut butter:
BUDDY BUDDER Bark Bistro Company, Ruff Ruff...
✔️ HEALTHY DOG TREAT - if you wouldn't eat its why would you feed it to your dog, aka your furry family member? That's why we made an all natural peanut butter for dogs that's fit for human consumption. It two simple ingredients peanuts and honey. Theres no high fructose corn syrup, stabilizers, xylitol, artificial sugar, or salts.
2. Warm your dog's food in bone broth
If their kibble is mixed with gravy, canned food, or one other suggestion above, try heating the whole meal a little. This makes it smell tastier and releases the flavor more easily.
If your dog is mostly eating dry food, try soaking the kibble in bone broth for 5-10 minutes. Bone broth is tasty, nutrient-dense, and easy to prepare. It's an all-natural superfood! It is perfect for dogs that have lost appetites or to encourage sick or convalescing dogs to eat more. Read our page on Bone Broth for Senior Dogs.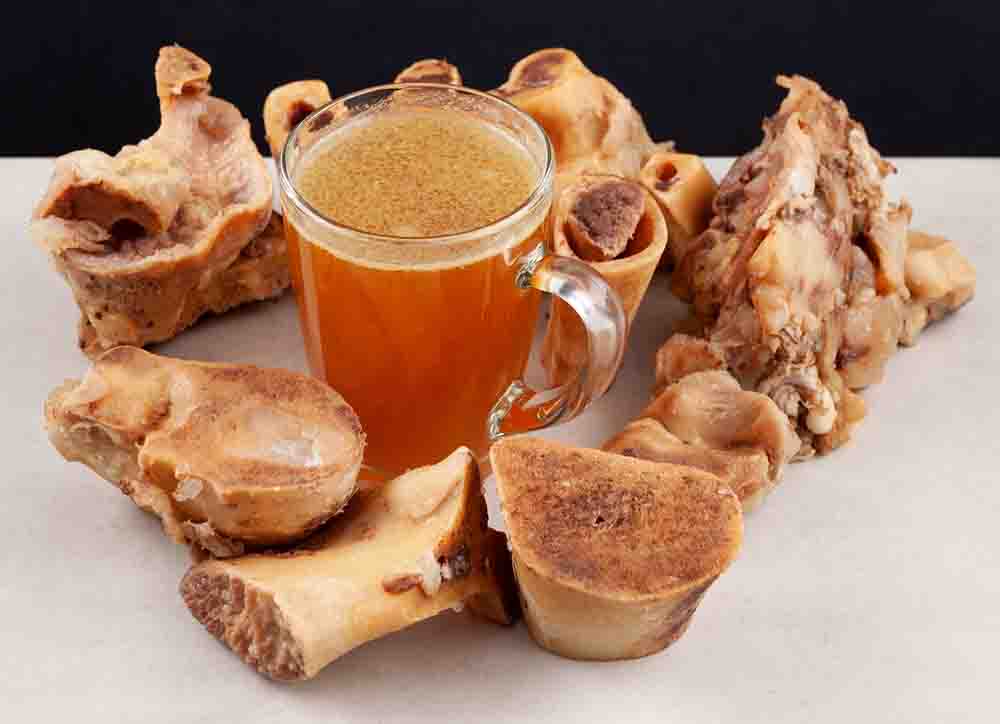 3. Add a little variety
Your senior dog may be trying to get tastier meals by turning down a certain food for a couple of days! Adding a little variety at least 3-4 times per week might help your dog eat more.
4. Use wet food
Canned/wet food can be a good option for older and senior dogs. For an older dog who's not eating well, sometimes a change in food can help. If you've always fed dry kibble, then now might be the time to start mixing a little canned food in with the dry.
Senior dogs with dental problems often find it easier to eat soft food rather than hard kibble.
Canned dog food contains a lot more water than dry food (obviously!), so it's also a good way to get more fluids into your older dog.
Soaking the dry kibble in warm water (or broth) and then mixing it with canned food will give you the best of both worlds and is what I tend to do when I'm trying to tempt a dog to eat more.
5. Feed your dog less, but more frequently
A big meal might be too much for your older dog to stomach, but a smaller portion (especially if you use one of the above tips to make it more appealing) might be just what the doctor ordered.
Adult dogs often only eat once a day, but a senior dog usually does better with two (or three) smaller meals.
Every dog is different, and you know your dog best, so if you think feeding him a handful of tasty food six times a day is the best way to get them to eat, then do it.
There's no 'one-size-fits-all rule at this point. BUT, don't overfeed them. If you're feeding him three, four, five, or even six times each day, divide their daily intake up into that number of portions.
However, this does NOT mean that you should feed your dog more treats or snacks. Iif your old dog is already eating less, treats could potentially make them feel 'full,' and they may no longer have enough appetite for the 'proper' and nutritious meals. So, as tempting as it may be to give that sad old face more treats, you actually need to give them fewer. Also, make any treats super-healthy ones, that way they're getting something with nutritional value rather than empty calories.
Freeze-dried liver treats or tiny slivers of meat (or ground beef) are my usual choices here.
To learn more about feeding your old dog, read our practical, tried-and-tested tips and advice that will help here…: Getting Older Dogs To Eat.
What To Do When Your Older Dog Won't Eat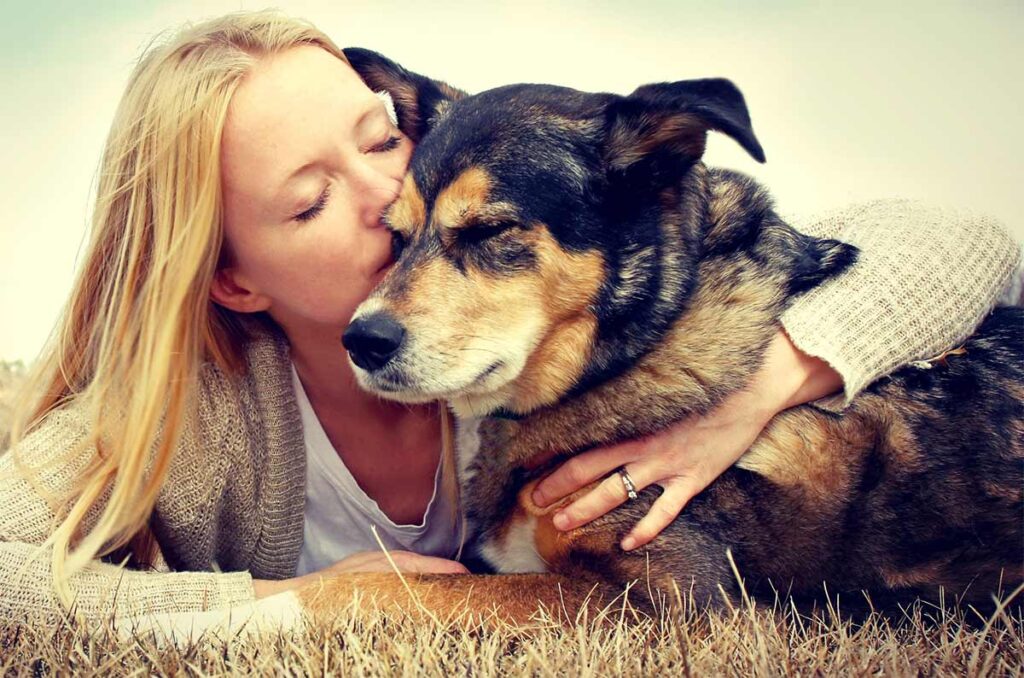 There are some situations where you need to get your senior dog a vet appointment as a priority, these include when they:
stop eating completely
vomit, dry heave and/or has diarrhea
are severely constipated or their belly is distended
are losing weight (even if he's eating normally)
seem stressed or are panting/pacing/whining/drooling
are lethargic, depressed, or seem confused
are acting differently
Related posts
Read our veterinarian articles about senior dog nutrition:
Disclaimer: This website's content is not a substitute for veterinary care. Always consult with your veterinarian for healthcare decisions. Read More.