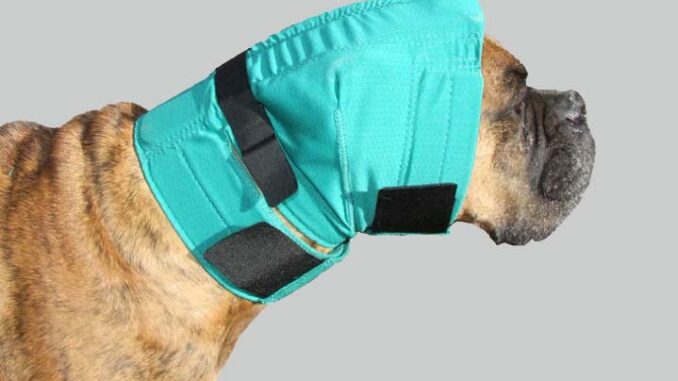 This article was updated on April 29th, 2023
Image credit: No Flap Ear Wrap Manufacturer.
Overnight your dog's ear ballooned up into a hot, squishy mess known as a dog ear hematoma. This occurs when blood collects between the cartilage and skin of a dog's ear usually following trauma. That trauma may be as simple as a bite from some roughhousing with the new puppy or from an irritating ear infection that caused repetitive head shaking. Either way, it's time to treat.
What Are Dog Ear Hematoma Wraps?
Dog ear hematomas are typically treated by draining the blood and then sticking the skin back to the cartilage with a few stitches. The trick is then to keep the ear immobilized so that it doesn't fill up again. That's where dog ear hematoma wraps come into play. These wraps surround a dog's head, gently pinning the ears down to prevent future hematomas and disfigurement of the ear. They may also be placed used to keep another bandage in place.
Are Dog Ear Hematoma Wraps Effective?
If you've ever tried to wrap a dog's head, you'll soon realize that it's not as easy as it sounds. Keeping the bandage from sliding down the neck or over their face is enough to make any person (or dog!) crazy. Dog ear hematoma wraps can help take care of that bandaging hassle. These wraps gently secure both bandage and your dog's ears to catch any drainage as well as immobilize the ear so that it has time to heal.
When to Consider Dog Ear Hematoma Wraps
Not only can dog hematoma wraps help to heal those gnarly and often problematic hematomas, they can also play a part in prevention. Dogs with chronic or persistent ear infections are often the poster-canines for ear hematomas. That's because the constant scratching and head shaking can lead to bleeding under the skin of the ear.
Ear hematoma wraps may be used any time a dog has an ear infection in order to keep those delicate ear flaps motionless.
They can also be used to keep grass seeds and other foreign objects out of a dog's ear. If you have a pup that likes to hike or play in the tall grass, stratigically wearing an ear hematoma wrap can keep those ears free from pricklies.
How to Use Dog Ear Hematoma Wraps
Size is everything when it comes to using dog ear hematoma wraps. You'll want to take accurate measurements to ensure you get a snug fit that isn't too tight. Most companies will provide a video or chart showing how to measure, or ask your veterinarian.
Next, let your dog do some investigating. Don't plan on slapping the hematoma wrap on without any lead up. A new, scary device mixed with a sore ear is going to make one unhappy pup. Let your dog sniff, lick, or whatever with the wrap before trying to put it on. Then, place it on without strapping it down. Make sure they get a feel for it before it's attached to them. Leave it on for a few minutes then remove and give him lots of praise. Finally, put the wrap on and fasten it down. Make sure you can fit one or two fingers under the wrap to ensure that it's not too tight. Give your dog lots of praise.
Can You Treat a Dog Ear Hematoma at Home?
Ear hematomas in dogs are going to require veterinary attention, firstly because they are painful enough your dog isn't likely to let you touch it, and secondly because most require surgical repair to properly fix them.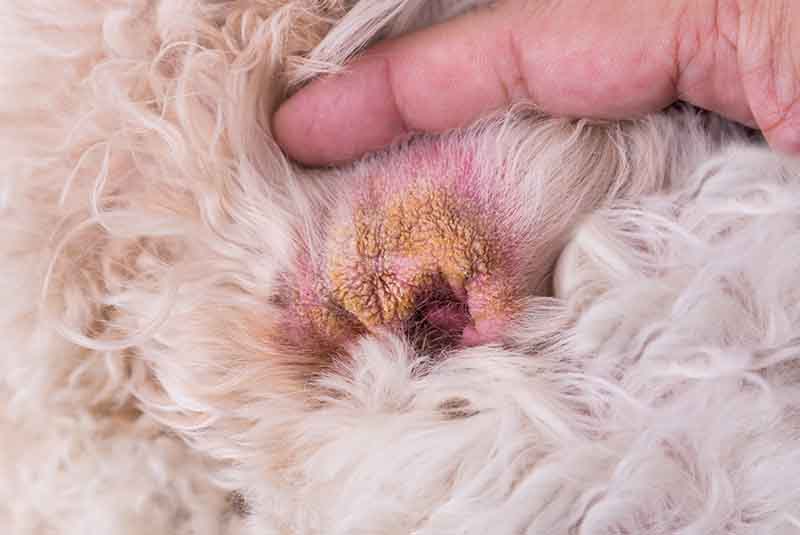 However, some ear hematomas will burst on their own, and there are somethings you can do to help your dog until you can get to the vet. If he'll let you, try to gently clean the area with a dilute disinfectant such as chlorhexidine or betadyne. Apply gentle pressure to completely drain the bubble and wrap a soft bandage around his head, pinning his ears down.
Even ruptured ear hematomas should be seen by a vet. Not only do they require drains or stitches to completely repair, veterinary attention is important to prevent infections and permanent disfigurement of the ear flap.
What Happens if you Leave a Dog Ear Hematoma Untreated?
Ear hematomas are painful! While it's true that some ear hematomas will eventually heal on their own, this takes a lot of time. Leaving them untreated will give your dog 'sad eyes' for longer, and all that chronic inflammation can cause permanent damage to the ear flap. Along with that, without proper fixation, ear hematomas are more likely to keep filling up.
Fixing the ear hematoma isn't the end. The underlying cause needs to be addressed as well. Ear infections need to be treated, foreign objects removed, or a safer way to play needs to be established to keep those balloon ears from coming back.
Related posts about ear hematomas