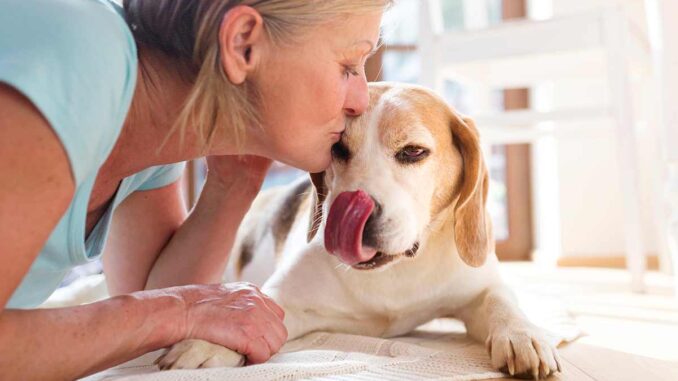 This article was updated on June 1st, 2023
At Senior Tail Waggers, we talk a lot about the difficult process of putting your dog to sleep and saying goodbye. Even though your dog has hopefully lived a full and happy, losing your four-legged best friend is – understandably – a very emotional experience.
Our certified dog trainers Mindy Waite (Ph.D., CPDT-KA) and Julie Burgess (CPDT-KA) have put together a list of things to do for owners as they prepare for that heart-wrenching day when they have to put their dog down. 
Special Things to do with Your Dog Before Your Veterinarian Visit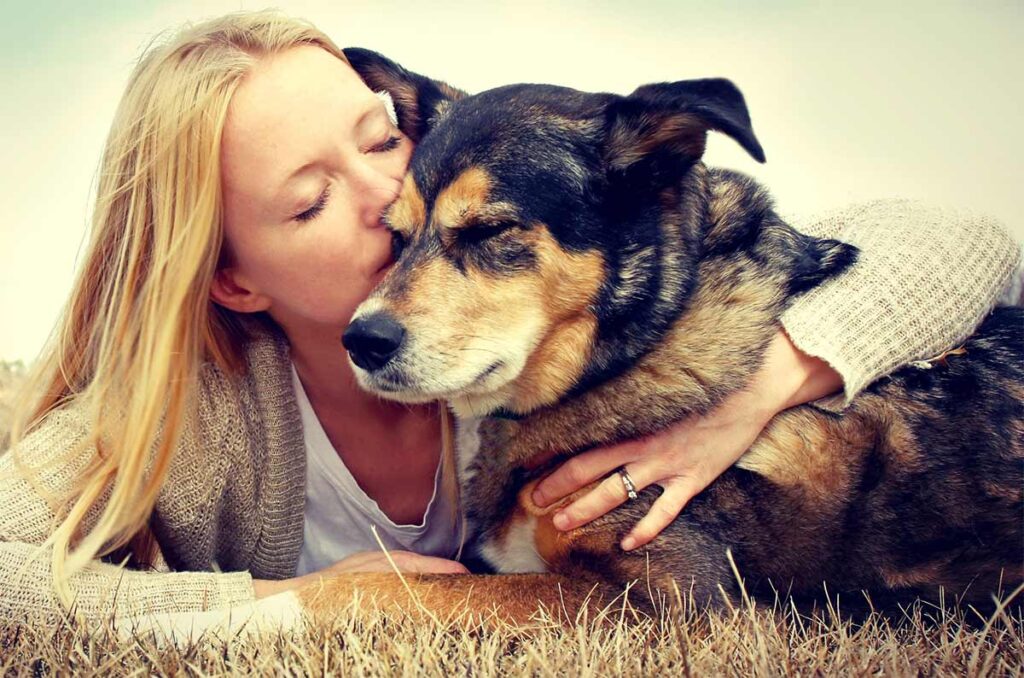 It is important to cherish those last few days and weeks together. Of course, you will already have years of memories to fondly look back on. Yet it's never too late to create some extra special ones and spoil your fur baby:
1. Take Photos
If you are anything like us here at Senior Tail Waggers, then your phone has hundreds of dog photos and puppy selfies. Yet even so, once they are gone forever, many pet owners find themselves wishing they had more photographs of their dog. Now is a good time to snap one last picture.
Missing a family photo that includes your pooch? Want to print out a series to hang in picture frames on the wall?
Trust us – after the tears fade and your heart heals, you will be thankful for the visual reminders.
2. Plan Their "Final Day" Sooner Rather Than Later
Next, try to prepare for your dog's last day well in advance.
Mindy Waite, Ph.D explains: "All of us want our animal to stay with us as long as possible and, as a result, many of us wait too long to euthanize and then have to rush the process at the end. What this means is that we may wait until our friend is too sick to enjoy their "final day," which we typically want to be special and include adventure, cuddling, and favorite foods."
If possible, try to plan in advance. Look at your calendar and schedule a free day where you can give your darling dog undivided attention from morning until night. In the end, that's all senior dogs want from humans – our love.
3. Have Multiple "Final Days" If Necessary
Mindy Waite further shares, "Missing out on this last adventure can bring intense guilt. Therefore, owners should have that final special day as early as possible. If your dog lives even longer than expected, then your pup can have multiple special days! Nothing says we have to limit ourselves to just one incredible day with our pup."
For example, you could:
Go for a favorite hike
Visit the beach
Play in the backyard
Snuggle in bed
Watch TV together on the couch
Hang out as a family
Go on a road trip
4. Ensure You and Your Dog Both Have Some Space
Next, give your dog the space he might need if you have multiple pets, like other dogs, cats, etc.
Julie Burgess, one of our Certified Dog Trainers at Senior Tail Waggers, acknowledges that "He may be acting differently, and understandably, your other pets may be curious. However, your dog must have a quiet spot to go to in your house where he won't be disturbed."
For example, a bed tucked in the corner or baby gate separating the kitchen / living room are two suggestions.
Similarly, you yourself will need space to grieve. Losing a pet is a big deal. A quiet spot in the garden or the privacy of a bedroom are great places to, as Julie Burgess says, "Remember all the fun times you had and the goofy things your dog did.
5. Keep Regular Routines
Furthermore, in the days before the euthanasia, Dr. Mindy Waite says that "owners can reduce stress on their dogs by keeping up a typical routine and engaging in previously preferred activities. This is hard, because the days before saying goodbye to our best friend feels anything but routine."
Try to:
Disclaimer: This content is not a substitute for veterinary care. Always consult with your vet for health decisions. Learn more.
Wake up at the same time
Go for regular walks
Eat meals
Play
Just note that you may need to avoid certain activities or make major accommodations if your dog is feeling unwell, appears weak, or is experiencing cognitive difficulties. Nothing feels worse than watching your friend struggle as they try to engage in a "fun" activity you planned.
So, keep things as normal as their abilities allow.
6. Identify Your Dog's Preferences
Here is a personal story from Mindy. She tells us, "Years ago, we trained our dog Staale to tell us which of two foods he preferred. On the day of his euthanasia, we bought two fast food sandwiches, neither of which he has previously been allowed to eat. We asked him to tell us which sandwich he preferred, and he was given that sandwich during the euthanasia process. It was a small thing, but I was grateful that I didn't have to guess what he'd prefer as his final meal. You can train dogs to similarly communicate for toys, games, or other activities."
For instance, does your dog love sniffing in the grass? Or going for car rides? Do their favorite things first, so they are happy and content.
7. Visit Friends and Family
Remember, it's not just you who is saying goodbye to your dog.
Your spouse, children, extended family, friends, neighbors, and so on have all become attached as well. If your pooch is feeling up to it, arrange a couple of visits so that everyone can bid their final farewells.
More Tips for the Final Day
The day has finally arrived. You are at peace with the decision to put down your dog and your veterinarian is expecting you. What now?
8. Make Your Dog Comfortable
To start, try to make your pooch comfy. At home, a soft bed and quiet environment go a long way.
Secondly, Julie explains that you can always inquire about a sedative for the euthanasia process. When dogs undergo surgery, they are unconscious. Many vets will do this first if you ask, and then the dogs heart stops within seconds after the euthanasia-causing drug is administered. It's a painless and tranquil transition.
9. Bring Your Dog's Comfort Items
Does your dog have a favorite plushy toy? Or blankie? Pack these items in a bag. The familiar scent and texture will lower your dog's stress levels and remind them of home.
10. Understand the Process
Putting your dog to sleep is emotionally draining. However, it shouldn't be scary.
A veterinarian can offer certain things to make the process more understandable and easier, such as: placing an IV catheter, giving your dog a sedative, making a house call, giving you a lock of your dog's fur, making a pawprint, posting unique signs in the clinic that tell people to please, keep their voices down, etc.
11. Consider Anti-anxiety Meds for Anxious Dogs
Barking dog? Running around anxiously? Trembling with nerves?
We want to avoid that! Mindy explains that "if your dog has a history of anxiety about being handled by veterinarians or going to the vet, discuss medications to help the dog feel less nervous before the final visit."
12. Train Your Dog to Allow Body Handling and Injections
This goes hand in hand with the point above. Even though needle injections don't "hurt" per se, dogs do react to the slight prick. It can be helpful to teach your dog that the veterinarian is a friend (not a foe).
Dr. Waite says this help to ensure the euthanasia process is "as stress-free an experience as possible."
13. Choose a Euthanasia Vet and Setting Your Dog Prefers
Finally, some dogs hate the vet. And who can blame them? Offices are often loud and busy places full of strange humans. For pups who dislike travel or chaotic clinics, in-home euthanasia is a good option. Know that you have a variety of options available beyond going to your primary care vet.
What to Do for Yourself and Your Family to Prepare to Put Your Dog Down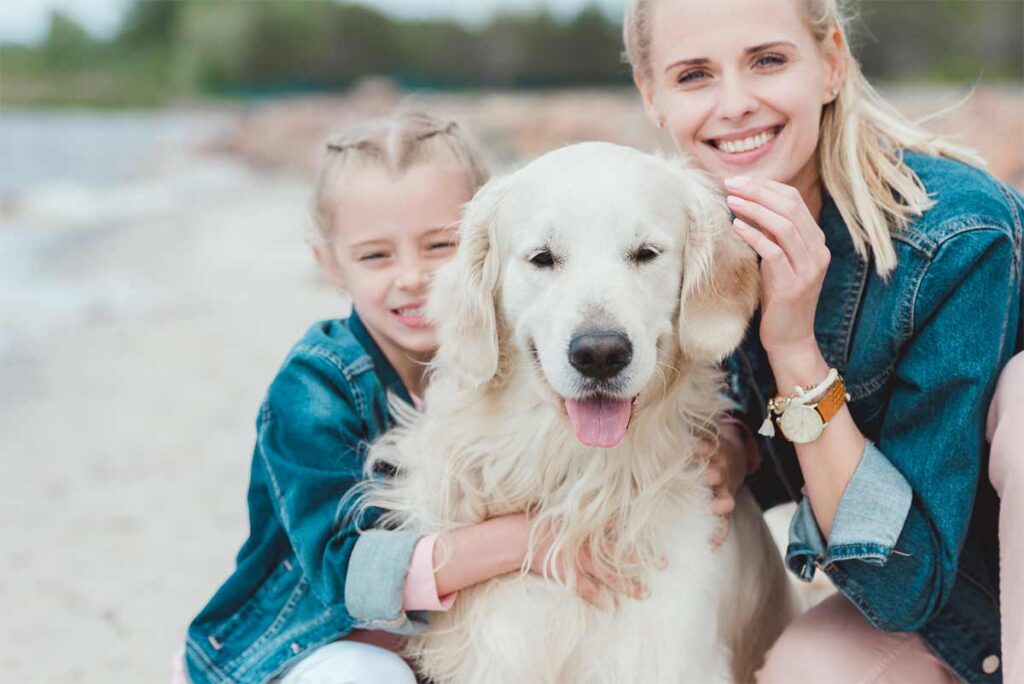 The grieving process takes time. In fact, psychologist say that the initial grief period lasts anywhere from six months to one year. One thing that can aid the healing journey is to prepare for putting your dog down ahead of time. Senior Tail Waggers suggests doing the following:
14. Book Time Off Work
Nobody wants to burst into tears at work.
Talk to your HR department and request a personal day. That way, you won't be rushing to and from the veterinarian's office or performing tasks while distracted and/or upset.
15. Enlist Your Support System's Help
Putting your dog to sleep is perhaps one of the hardest (but kindest) things you can do for your dog. With 20+ years in the veterinary medicine community, Julie Burgess knows firsthand how important support is. She explains: "Your support system must know about the upcoming events so they can offer condolences and ask you how you're doing and what they can do to help. If your support team knows what's happening, they can also avoid questions like, "How is (fill in the blank) doing? Inquiries like these are typical but can also make a situation very painful and awkward for you."
We also invite you to read our article about facilitating your grieving process: 11 Tips from a Therapist for Grieving the Loss of a Dog.
16. Make a Plan for Your Other Pets
Burgess also encourages owners to think about their other furry family members.
She says, "Other pets will be wondering where one of their tribe is, and it can be very troubling for them when they can't find them. Your other pets may not understand that there are changes in your household at first. They may be confused and uncertain, but they'll still find ways of comforting you."
17. Talk to Your Children About Death
Do you have children? Don't skip this step. Explain to young kids (in age-appropriate terms) what a dog's death means. Be calm, honest, and supportive. Let your child ask questions. This will help them cope with the future loss.
18. Choose a Cremation Urn or Gravestone
Lastly, prepare for your dog's passing by shopping for a cremation urn or grave marker in the case of a burial. These are beautiful ways to honor your pet's memory.
Related article: 11 Tips from a Therapist for Grieving the Loss of a Dog
Signs it's Time to Say Goodbye to Your Dog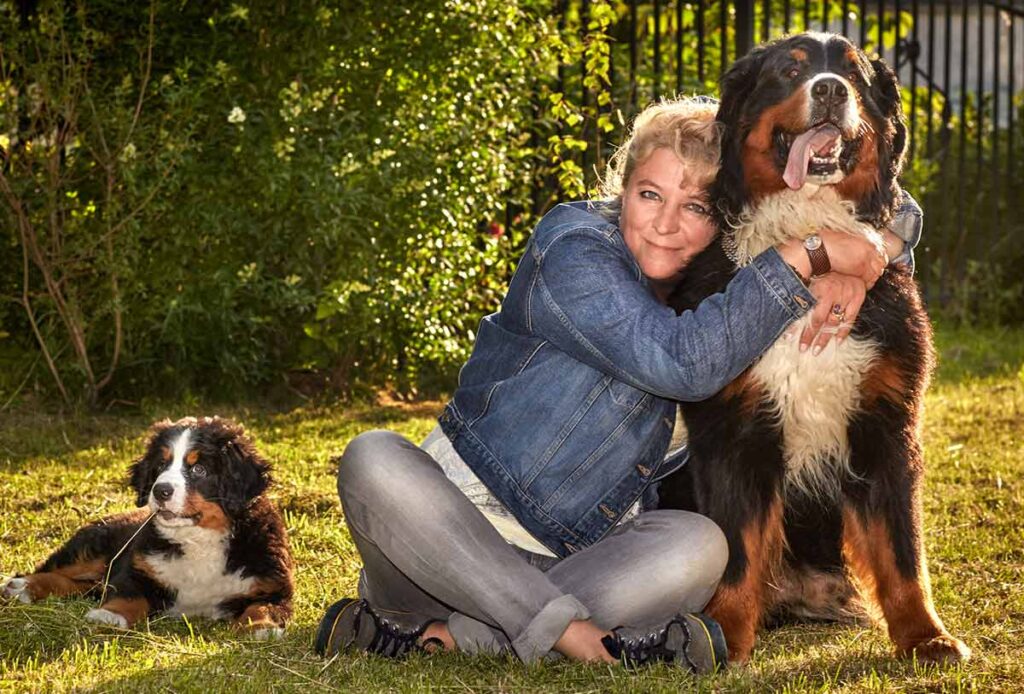 It will always feel too early to put your dog down. We all wish for one more week, day, and second with our beloved pooches. But the fact of the matter is, putting down a dog can be one final act of kindness. Veterinarians recommend doing what's known as a "quality of life check." In doing so, you can assess whether your dog is showing physical and behavioral signs it might be the right time to say goodbye.
For example:
Is my dog in significant pain?
Are they no longer in control of bladder and bowel movements?
Do they seem stressed, confused, afraid, or upset?
Can they eat and drink normally?
Is my dog sleeping through the night?
Is their breathing labored?
For a more detailed list, see this article: Putting Your Dog To Sleep: a Heart-Wrenching Kindness
Putting a Dog Down FAQs
Do Dogs Know When They are Being Put Down?
Dogs are sensitive animals. Canines are very in tune with their owners' emotions and so if you feel sad, there is a high likelihood they will pick up on that.
However, to answer this question, no. A dog will not understand what is happening when they are put down Instead, they will simply feel a tiny needle prick, become drowsy, and peacefully drift off to an eternal sleep.
Should I Be in the Room When My Dog is Being Euthanized?
This is a personal decision. That being said, your dog will appreciate it if you are present during the procedure. After all, the veterinarian office is not familiar to them and will be full of odd sights, smells, and sounds. Quietly petting or softly speaking to your dog is a reassuring gesture that will provide a sense of calmness and reduce any fear they may feel.
But if you absolutely cannot handle being in the same room when your dog undergoes euthanasia, never feel embarrassed, ashamed, or guilty. Everybody reacts different to death. Again, this is why it can be helpful to bring along a friend or family member for emotional support.
What Will the Vet Want Me to Know About Putting My Dog Down?
Before putting a dog down, your veterinarian will ask lots of questions to give you (the client) and your dog (their patient) the best end of life care. After making their final assessment, your vet will briefly explain the process. Chiefly, they want you to know what to expect. This includes:
Which euthanasia and/or sedative medication they will use
The effect that will have on your dog's body
The estimated length of time it will take
As well as any burial and cremation services they offer
How Much Does it Cost to Put a Dog Down?
Additionally, it's recommended knowing how much it costs to put a dog down well in advance. That way, in those final moments, you can focus on what truly matters – your sweet pup.
Senior Tail Waggers covers what pet parents should budget for in this article: How Much It Costs to Put a Dog Down.
Final Thoughts
Remember, your dog never truly leaves you. Their memory will live on. Cherish the time you spent together and find healing in the knowledge that you will one day meet again over that rainbow bridge.
Disclaimer: This website's content is not a substitute for veterinary care. Always consult with your veterinarian for healthcare decisions. Read More.