This article was updated on November 12th, 2023
We're thrilled to introduce you to our latest initiative, "Happiness Plans for Dogs!" Our goal is to provide dog owners like you with easy and effective strategies to improve the well-being and happiness of your own dog. In this happiness plan, we'll focus on Zeus.
A Customized Plan for Zeus, a 13-Year Old Shepherd Mix
Our dog behavior experts Julie Burgess (CPDT-KA) and Mindy Waite (Ph.D., CAAB) have assessed Zeus' profile, taking into account factors like age, breed, temperament, and specific behaviors and preferences.
They have crafted a customized plan packed with easy and actionable tips and activities to promote his enrichment and happiness. Let's dive in!
Profile
Our friend Zeus is a very talkative rescue dog. Here are some of his special traits:
He's a bit picky when it comes to toys, but he has a few favorites that are easy to chew on
He does not like playing with other dogs, other than his sister
He loves patrolling his fenced-in yard
He loves freeze-dried liver treats (and will stop whatever he's doing to get one)
He follows one of his two owners everywhere and is very unhappy when she leaves the house
Lifestyle
Zeus stays at home with a work-at-home parent. He enjoys snoozing during the day under his owner's desk. Throughout the day, he'll have occasional bouts of play and potty breaks. He's ready to go to bed at 9:30 pm, and will often stand at the top of the stairs "talking" to let his owners know it is bedtime.
Happiness Plan for Zeus: Quick and Actionable Steps
Now that we know more about Zeus, let's take a look at some actionable steps to help him live his best life.
Train him to request going outside
Since Zeus loves to patrol his yard, train him to request going outside by pushing a button, or give him a doggie door so he can go out whenever he pleases. This will keep him active and happy.
Sale
Introduce a new game
To make yard patrol even more fun, go outside before he does and hide liver treats around the yard for him to find, then let him out and tell him to "find the treats!"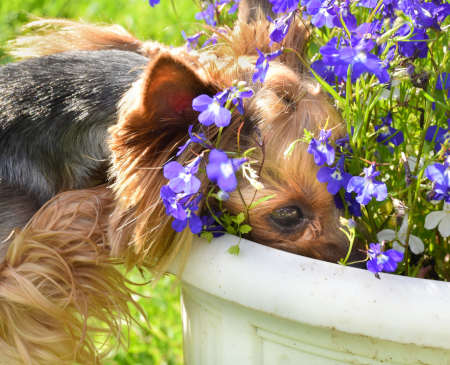 The first few times, go out with him so you can show him where the treats are. This game will help keep him engaged and happy. For one, he gets treats. It has the added benefit of helping exercise his body and brain since he needs to sniff out the treats.
Add a sniff walk
A few times every day, Zeus gets to walk at his own pace and sniff everything he pleases for 15-30 minutes. He currently receives walks inconsistently since the yard is very large, but a sniff walk would give him more of an opportunity to use his brain, connect with you, and get his joints moving.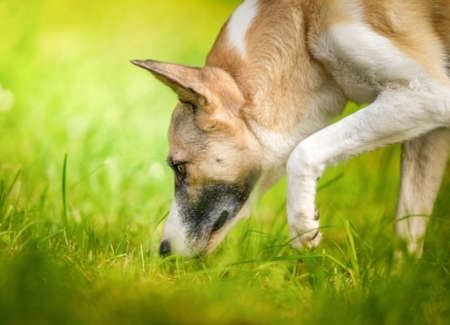 Build your relationship with toys and tricks
Since Zeus loves being anywhere with his owner, it would be ideal if he can get periods of his owner's full attention and engagement every day. This could be through short training sessions focused on teaching a new trick. It could also include working on training Zeus to enjoy a variety of toys outside his current repertoire.
For example, although he doesn't currently enjoy many toys, most dogs can be trained to love new toys—especially food delivery ones! Therefore, he might love to learn how to bat around a Kong Wobbler for liver treats, which can then be incorporated into his daily life to bring joy on a consistent basis.
Sale
KONG - Classic Dog Toy, Durable Natural...
Medium Dogs (Up to 35 lbs): The KONG Classic red rubber toy is 2.25" by 3.5"; it helps satisfy dogs' instinctual needs while providing mental stimulation and encouraging healthy play
Add scentwork
If you have a bit more time, consider adding scentwork.
Dogs love discovering the world with their nose. Older dogs in particular often enjoy and benefit from scentwork, as it's a low-impact game focused on finding hidden, scented items in the environment. It's like solving a puzzle. So taking an in-person or online scentwork class can set you up for years of fun within your own home.
Discover more happiness plans
Check out the happiness plans for Scout and Sam below, or click here to view our "happiness plans" homepage.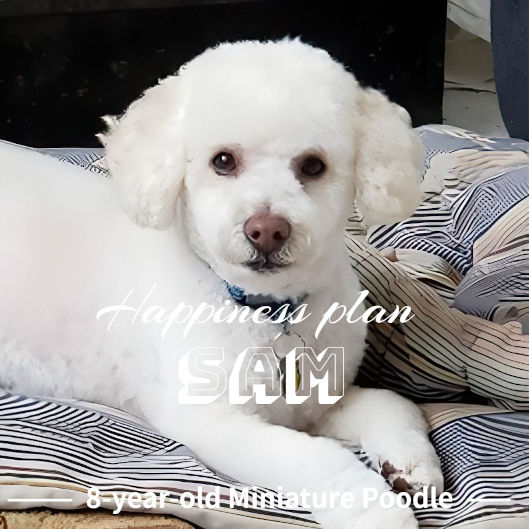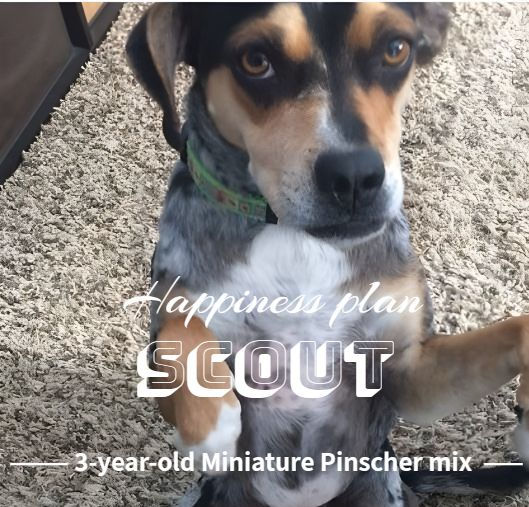 Disclaimer: This website's content is not a substitute for veterinary care. Always consult with your veterinarian for healthcare decisions. Read More.