This article was updated on November 9th, 2023
We're thrilled to introduce you to our latest "Happiness Plans for Dogs!" Our goal is to provide dog owners with easy and effective strategies to improve the happiness of their own dogs.
A Customized Plan for Scout, a 3-Year Old Miniature Pinscher Mix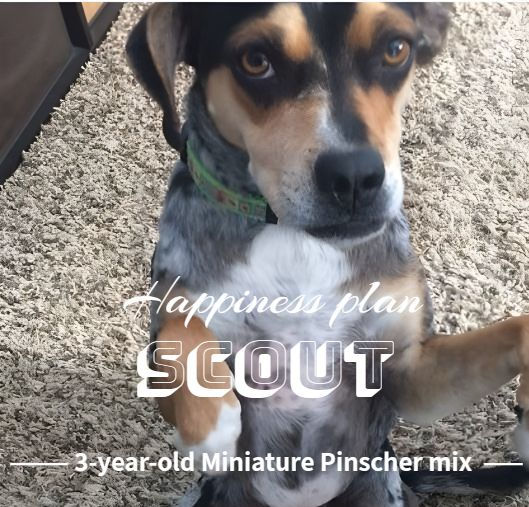 Our dog experts Julie Burgess (CPDT-KA) and Mindy Waite (Ph.D., CAAB) have assessed Scout's profile, taking into account his age, breed, temperament, lifestyle and preferences.
Let's get to know Scout and view our team's personalized recommendations for her!
Scout's Profile
Scout is a very active rescue dog who can get herself in trouble if she is not well-exercised. Here are some of her key characteristics:
She loves to play with almost any toy, but she destroys ones not made for heavy chewers.
Scout enjoys playing with other dogs, but because of where she lives, she doesn't often have the opportunity.
Scout LOVES Chuckit, and can often be found trotting through the house with a tennis ball in her mouth hoping you might be ready to play.
Lifestyle
Scout stays at home with her owners who work from home. Thankfully, they have flexible jobs and can take breaks to get Scout outside to exercise regularly during the day.
Scout's Happiness Plan (Quick and Easy Tips)
Games and activities
Since Scout loves to fetch, continue to include this game in her life. However, games of fetch involve a lot of jumping, quick acceleration, braking, and slipping. Veterinary teams indicate these maneuvers can potentially be harmful.
Instead of playing typical fetch for long periods, slow the game down for Scout. For example, ask her for a sit/stay (or any other fun, stationary behavior), throw the ball, and then release her once the ball has come to a stop. That way, she'll slow down a bit and avoid jumping or sliding.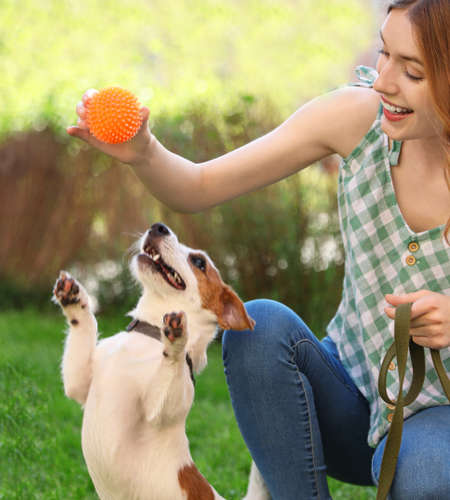 This will not only scratch the itch to fetch but will also work her brain, improve her basic manners, and develop your communication skills.
Scout will love more chewing
Because Scout is such a big chewer, we recommend she is provided with items to chew every day. This can include frozen, food-filled puzzle toys (e.g., Kongs, West Paw Toppls). For example:
Because she is a big chewer, we also recommend rubber toys, like this West Paw Zogoflex Tux Interactive Treat Dispensing Toy. It bounces erratically due to its shape and can be filled with frozen treats for additional, long-term engagement.
This can also be supplemented with short periods of access to food chews such as Frankly Beef Chew Rolls or cow ears:
Also consider dental cleaning chews which are "VOHC accepted" such as Purina Dental Chewz or Purina DentaLife treats.
Petting and relationship with the owner
Scout loves any attention you give her and often becomes jealous of the other animals in the household.
To scratch her itch for attention:
Make sure Scout gets plenty of cuddle time. More cuddling will likely make Scout happier.
Incorporate 1-2 short training sessions in a closed-off room so that she has time to be the center of attention.
At the same time, it would improve Scout's happiness to learn that sharing attention can be good! So, include one training session per day where Scout gets rewarded for quietly watching you give attention to another animal in the household.
More ideas to entertain Scout
Longer, slower walks
More car rides!
More training for fun (check out this 5-minute video)
Discover more happiness plans
Check out the happiness plans for Scout and Sam below, or click here to view our "happiness plans" homepage.