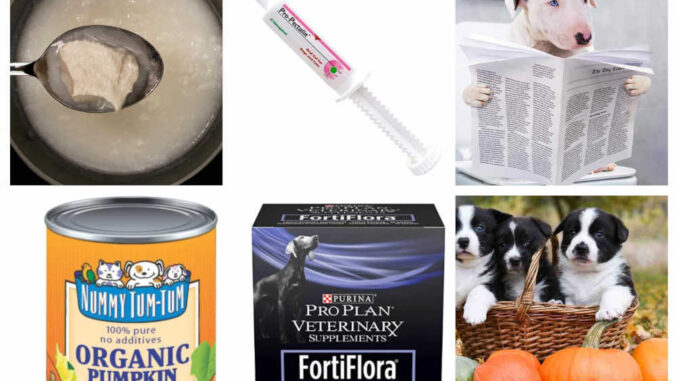 This article was updated on May 5th, 2023
At my clinic, I see dogs suffering from diarrhea on a daily basis. While some cases of diarrhea may require veterinary intervention, there are some things that owners can do at home to help.
It's important to remember that if these recommendations don't work then you should take your dog to your local veterinarian straight away.
Below are my favorite at-home treatments / home remedies to help your dog get well again and recover from diarrhea fast:
7 Dog Diarrhea Home Remedies and Treatments that Are Very Effective
You can start with the following options to help your dog get over their diarrhea issues:
1. Bland diets. Plain chicken, rice, pumpkin and white fish are all bland, easily digestible foods for dogs that shouldn't cause any further harm to your dog's gut. Note that some articles recommend fasting. While fasting might give your dog's gut a break, there is no research that suggests it is beneficial. You are better off feeding your dog a bland diet.

Unsweetened canned pumpkin contains micronutrients and fiber: these ingredients will help firm up loose stools, providing relief from diarrhea in the process.

Pumpkin also helps to absorb excess water while also promoting good bacteria in the digestive tract. Pumpkin can have results pretty quickly – within 24 hours, although it depends on several factors as explained here.

Canned pumpkin can be given alone, but it is a good idea to simply mix it into the dog's daily meals at feeding time. We suggest adding pumpkin to your dog's meals for 24 to 48 hours (1-2 days). Here is an approximate breakdown of how much pumpkin you should feed your dog to help with diarrhea:
10 lb dog: 1 tsp
20 lb dog: 2 tsp
50 lb dog: 2-4 tsp
100 lb. + dog: 2-5 tsp
2. Binders. Binding paste is a useful food supplement that is high in fiber to help bulk up your dog's stools again. This prevents fluid loss in the stools and allows your dog to absorb more nutrients from their food.

Binders often only need to be used short term until your dog's diarrhea resolves and they can be used in combination with bland/specialized diets. Many binders also contain a probiotic.

Check out this product on Amazon:

3. Plenty of water. A dog with diarrhea can very quickly become dehydrated as they lose fluids in their watery poop. It's therefore vital to help keep them hydrated. Make sure there are plenty of bowls of fresh water available. If they don't want water from a bowl then try running some cold water by them as they may prefer this. Fluids with more flavor like chicken broth may be a good alternative if your dog is being picky – just be sure that the broth you choose doesn't contain any onions or garlic.
4. Rest. Allow your dog time to rest and recover. They will likely not be absorbing vital nutrients and losing them in their diarrhea and therefore won't be getting as much energy from their diet as usual. This will leave them tired and lethargic. Offer to take your dog outside for short walks but don't force them into any exercise that they don't want to do.
5. Smaller portions. Feed your dog small amounts and often to avoid overloading their gut. This gives them the chance to absorb the nutrients from each meal without triggering any more diarrhea. 'Small amounts' will vary depending on the size of your dog. For a small dog less than 10kg, that might mean a couple of tablespoons of food at each sitting. For a large dog over 40kg that might mean a couple of handfuls. Generally, there is no hard and fast rule, just judge it based on how your dog is responding. If they still appear hungry for more food then offer them some more. If they are turning their nose up then don't force-feed them.
What Else Can You Do At Home to Help Your Dog with Diarrhea?
If the above at-home treatments and remedies fail to help, I would recommend getting in contact with your local vet and asking if they have any gastrointestinal food available as this can also work wonders. It may also be worth adding in probiotics at this stage if you haven't done so already:
6. Veterinary gastrointestinal diets. While chicken and rice can help, it doesn't always contain all the nutrients that a dog requires. The best thing that you can feed a dog with diarrhea is a specifically formulated dog food for gastrointestinal problems, these are gentle and easy to digest, but still provide all of the nutrients they need for recovery.

These diets are made to be highly digestible, which is crucial for a dog that isn't getting to nutrients it needs. They are also designed to be highly palatable, especially important if your dog is unwell and does not want to eat. Finally, these diets are usually more energy dense, which means that they don't need to eat as much as other bland foods to get the same energy.
See dog food products for gastrointestinal problems.
7. Pro-biotics. Probiotics are a great way to restore the normal bacterial balance in your dog's gut. These products or supplements contain healthy bacteria that are essential for recovery. One example is "Purina FortiFlora Probiotics for Dogs":



Many causes of diarrhea lead to an imbalance in the normal 'healthy' gut bacteria present in your dog's gastrointestinal system. These bacteria help to digest food making it more bioavailable for absorption by your dog. They also help fight off any nasty harmful bacteria that may find their way into your dog's gut. Probiotics should be used in addition to bland diets or specialized diets (some specialized diets may already contain some). You can choose to use probiotics just until your dog's diarrhea resolves or you can keep them on probiotics long-term – the latter may be a good choice if you know your dog has a particularly sensitive stomach. Always check the label on the specific probiotic you choose for the amount you should be giving your dog
Of course, if none of the options above work then veterinary intervention is likely required – remember it can actually work out cheaper to see you vet right when a problem starts as it may get resolved quicker, thus saving you money in the long term!
How Long Does Diarrhea Typically Last with Dogs?
Diarrhea is very common in dogs. They are always exploring the world around them by putting things in their mouth and eating things that they should not have. This will lead to them having diarrhea. This will typically resolve itself on its own after a few days. How long exactly your dog will have diarrhea will depend on the underlying cause and what treatment they are on. If they have diarrhea due to eating something rotten then diarrhea generally lasts 3-4 days.
If the diarrhea is due to a dietary intolerance then it can be 4-6 weeks until they are used to the new diet.
When Should I See the Vet about My Dog's Diarrhea?
As a general rule, if your dog's diarrhea ever lasts for more than 2-3 days, especially after you start at-home treatment you need to see your vet. Read this article about top reasons dogs have diarrhea for more than 2-3 days.
Disclaimer: This content is not a substitute for veterinary care. Always consult with your vet for health decisions. Learn more.
Additionally, if your dog is unwell in themselves or has any of the following symptoms then they should see your vet immediately:
Lethargy
Vomiting
Blood in stools
Abdominal discomfort
Other signs of being unwell or sick
Related articles: