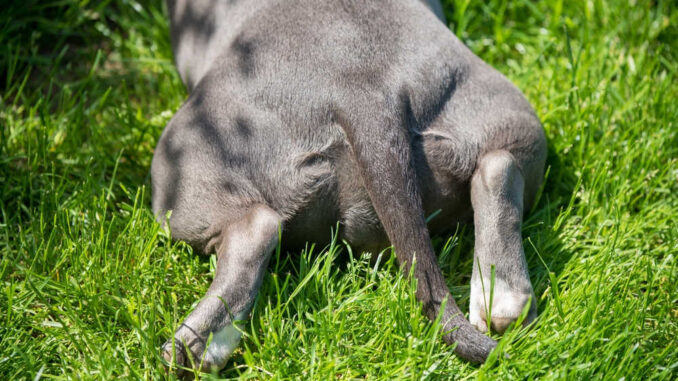 In my years as a veterinarian, I've frequently come across Cushing's disease in dogs, a hormonal disorder that can manifest in many ways. While many are familiar with the general symptoms, the impact on the hind limbs is often overlooked or mistaken for other ailments or the aging process. In this article, I'll delve specifically into how Cushing's can affect the hind limbs and what pet parents can do.
Overview of Cushing's Disease in dogs
Cushing's Disease, also known as hyperadrenocorticism, is a hormonal disorder that commonly affects middle-aged to older dogs. It is characterized by an overproduction of the stress hormone cortisol, typically caused by either an adrenal gland tumor or a pituitary gland tumor. This overproduction of cortisol leads to a myriad of symptoms, including increased thirst and urination, changes to skin and fur coat, increased appetite, and a pot-bellied appearance. In the next section, we will review how the disease can impact a dog's back legs.
Impact of Cushing's disease on a dog's back legs
Cushing's Disease can also have a noticeable impact on a dog's hind legs in the following ways:
Muscle atrophy: Chronic exposure to excess cortisol can lead to muscle wasting or atrophy, particularly in the hind legs. This can cause the legs to appear thin or weak.
Weakness and lethargy: The muscle loss in the hind legs may result in generalized weakness, making it challenging for the dog to rise from a lying position, jump, or navigate stairs. They may seem more lethargic and less interested in physical activity.
Joint and ligament issues: Cushing's Disease can affect the joints and ligaments, contributing to stiffness and discomfort in the hind legs. This may lead to altered gait or even lameness in some cases.
Panting and respiratory changes: Though not directly linked to the back legs, the increased panting and potential respiratory changes associated with Cushing's can further contribute to reduced exercise tolerance and overall weakness.
Increased susceptibility to injuries: The combination of muscle atrophy, weakness, and potential ligament issues may make the dog more prone to injuries, particularly in the hind legs, such as ACL (anterior cruciate ligament) tears.
Link to diabetes: Cushing's Disease can predispose a dog to diabetes, another condition that might lead to weakness in the hind legs.
Neurological signs: Pituitary tumors that put pressure on surrounding brain tissue can cause neurological signs such as ataxia (incoordination), lethargy, and disorientation (read my article about the neurological signs of Cushing's disease in dogs).
Arthritis: Older patients also likely have some degree of arthritis which may also be affecting their hind limbs.
How to manage back leg issues in dogs with Cushing's Disease
Managing back leg issues in a dog with Cushing's Disease is complex and requires an individualized approach based on the specific symptoms, underlying cause, and overall health of the dog. Close collaboration with a veterinarian or a team of veterinary professionals is essential to devise and implement an effective management plan.
Your visit at the vet: what will the vet do to help with back leg issues due to Cushing's Disease
Before determining the best approach to treatment, your vet will run tests to diagnose Cushing's Disease and rule out other causes of hind limb weakness. This may include a thorough medical history, physical exam, blood and urine tests, x-rays and/or ultrasound, and specific blood tests for Cushing's such as ACTH stimulation test and Low-Dose dexamethasone suppression test.
Once Cushing's Disease is diagnosed, treatment may include:
Treat underlying Cushing's Disease: Appropriate management of Cushing's Disease is vital since it's the root cause of the back leg problems. Treatment may include surgery, radiation therapy, or medications such as mitotane and trilostane that control cortisol production. Regular veterinary monitoring will help to manage the disease effectively.
Pain management: If there are signs of pain or discomfort in the hind legs, your veterinarian may recommend specific pain management strategies, including medications or alternative therapies like acupuncture.
Consider consulting specialists: Veterinarians specializing in internal medicine, orthopedics, or neurology may offer further insights and specialized care for complex cases.
What you can do at home to help your dog when they experience back leg symptoms
Provide proper nutrition: Diet plays a vital role in overall health, including muscle maintenance. Consult with your veterinarian or a veterinary nutritionist to ensure that your dog's diet is appropriately balanced for a dog with Cushing's Disease. Diets should be complete and balanced and have a seal of approval from AAFCO and WSAVA.
Physical therapy and exercise: Controlled exercise and physical therapy can be beneficial for maintaining muscle mass and joint flexibility. A professional canine rehabilitation therapist can design a program that suits your dog's specific needs.
Supportive care: Depending on the severity of the weakness, support harnesses or slings designed for dogs with mobility issues can help in assisting them to move around. Also, making sure that there is adequate traction (no slippery floors) can help your dog maintain their balance and coordination. Ramps instead of stairs and non-slip mats can be helpful in the home environment.
Maintain healthy weight: Extra weight can exacerbate hind leg issues. Work with your veterinarian to maintain or achieve a healthy weight for your dog through diet and appropriate exercise.
Other symptoms of Cushing's Disease in dogs
Increased thirst and urination
Increased appetite
Pot-belly
Skin and coat changes – the skin may become thin and fragile, and wounds may heal slowly. There may be hair loss and the coat may become dull and dry. Hard calcium deposits may also be noticed in the skin.
Panting
Lethargy and reduced activity
Recurrent skin and urinary tract infections
Neurological signs – rarely, if a pituitary tumor is the underlying cause, it may grow large enough to cause neurological symptoms such as seizures, difficulty walking, or changes in behavior.
Frequently Asked Questions
Can Cushing's Disease be cured or managed effectively?
In some cases, an adrenal tumor causing Cushing's Disease can be surgically removed, thus curing the disease. In other cases, the condition can generally be well managed, leading to a good quality of life. Medications such as mitotane and trilostane are commonly used to manage Cushing's Disease caused by pituitary tumors. These medications interfere with the production of cortisol; however, they are not without side effects and require careful monitoring.
Are certain dog breeds more prone to developing Cushing's Disease?
Cushing's Disease is most common in middle-aged to older dogs and can affect any dog breed. Some breeds have shown a higher susceptibility to developing Cushing's Disease, including Dachshunds, Poodles (especially Miniature and Toy Poodles), Boxers, Boston Terriers, Yorkshire Terriers, and Staffordshire Terriers.
Is Cushing's Disease a life-threatening condition for dogs?
While not immediately fatal, the associated health problems with Cushing's Disease can lead to severe conditions and even life-threatening situations if left unmanaged. This includes obesity, high blood pressure, infections, diabetes, heart disease, and kidney problems. If caused by a pituitary tumor, the tumor's growth might cause neurological issues and, in rare cases, become life-threatening. Furthermore, dogs with Cushing's may be at higher risk for complications during surgeries or other medical procedures. Early diagnosis, appropriate treatment, and regular veterinary care are essential for controlling the disease and maintaining the dog's quality of life.
Can physical therapy really improve mobility in dogs with Cushing's Disease?
Physical therapy, along with other treatments, can be beneficial for these dogs.
Are there any precautions we should take to prevent further damage to our dog's back legs?
It is critical to work with your vet to treat the underlying condition. As Cushing's Disease tends to occur in older animals, your dog may also have some degree of arthritis or another concurrent issue. Appropriate pain management and supportive care can help improve quality of life.
Related Posts about Cushing's Disease: