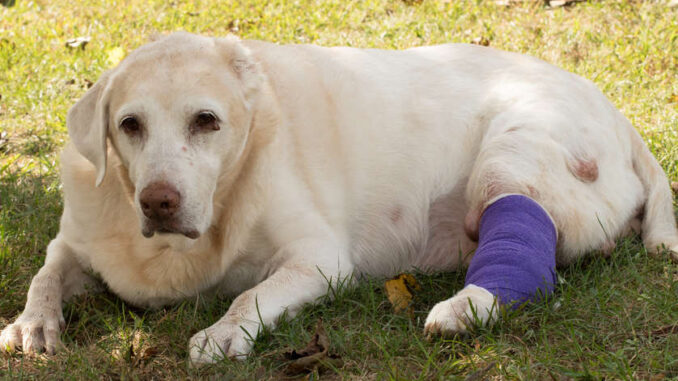 This article was updated on December 12th, 2022
The worst part about owning a dog is that their lives are far too short. This is further complicated by the fact that they can succumb to cancer, just like humans do. Despite our best efforts, cancer can interfere with their quality of life and shorten the small amount of time they already have. I know the feeling all too well between having to say goodbye to my own pet who was diagnosed with cancer and supporting my clients every day whose pets are diagnosed with cancer including mast cell tumors.
Just this past week, I struggled to stabilize a patient who had aggressive surgery to try to remove a large mast cell tumor. Unfortunately, due to the size and extent of the tumor, there were serious complications after surgery. Despite our best efforts, we could not save this pup and we had to say goodbye. We were all heartbroken but knew that she would no longer be suffering. In this article, we will review when is the right time to stop fighting mast cell tumors, and when to put your dog to sleep.
Why are mast cell tumors concerning?
These tumors are especially problematic because they can cause localized and systemic reactions. On the skin, they appear as a raised lump but can become ulcerated or swollen. Some tumors grow slowly while others can experience rapid growth in a short period. The biggest concern is that these tumors can degranulate and lead to serious systemic consequences. Ulcers can form in the stomach, leading to bleeding into the gastrointestinal tract. More seriously, anaphylaxis can occur, leading to a life-threatening reaction.
Mast cell tumors can behave in a variety of ways. The grade of the tumor will indicate how aggressive the tumor is likely to be, with higher grades being more aggressive. High-grade tumors are more likely to spread to other areas of the body. Mast cell tumors are graded from I to III with grade I being the lowest grade and least aggressive. The contrary is true for higher-grade tumors.
Are mast cell tumors treatable?
Before making the decision to euthanize your dog, it is important to discuss treatment options with your veterinarian, including success rates. There are several treatment options available for dogs with mast cell tumors. Grading of the tumor will dictate the difficulty of treatment:
Low-grade tumors that have not spread can be treated surgically. Many will not come back after they are excised.
High-grade tumors often require surgical removal and chemotherapy. If the tumor is not amenable to surgery or is too large, radiation therapy may be recommended. A veterinary oncologist will help guide owners as to which treatment is most appropriate for their pets.
Choosing a type of treatment is ultimately at the discretion of the pet owner and focused on what will benefit the patient the most.
---
WATCH: 3 Important Tips To Care For an Old Dog [VET VIDEO]
---
What is the survival rate of mast tumors in dogs?
The prognosis for low-grade mast cell tumors with complete excision is very good. Up to 90-100% of low-grade mast cell tumors may never recur again. If there is incomplete excision or local recurrence, radiation therapy can do an excellent job at providing local control.
High-grade mast cell tumors are aggressive and more likely to metastasize. With surgery alone, the median survival time with high-grade mast cell tumors is 6 months. With surgery and chemotherapy, many dogs can live up to 1 year or more. One study found that with surgery and radiation therapy, dogs were able to live up to 20 months.
What determines the survival rates of dogs with mast cell tumors?
Factors that affect outcome and longevity are:
Grade of tumor – Grade III being the worst
Location – Tumors in the mucosal regions have a worse prognosis
Evidence of metastatic disease – dogs with systemic spread will not live as long as dogs with localized disease
Evidence of systemic illness – dogs facing complications of their disease, or those that feel unwell may not survive as long
Incomplete tumor removal – being unable to completely remove the tumor will leave residual tumors cells, increasing the likelihood of spread, poor healing, and systemic complications
A high mitotic index carries a worse prognosis – these tumors are more aggressive and likely to metastasize
The last days of a dog with mast cell tumors
The battle with any form of cancer can be exceptionally tough on pets and owners alike. Dogs with mast cell tumors can have an excellent quality of life, but there may come a point when owners begin to wonder how much time they have left, and when it is time to stop fighting mast cell tumors.
The final days for dogs with mast cell tumors can be very different depending on the disease and comfort of the pet. These tumors can spread to various organs in the body leading to liver dysfunction, lymph node swelling, or splenic enlargement. Some dogs will develop fluid build-up in their bellies causing abdominal distension and discomfort. Other dogs may experience chronic wounds where their mast cell tumors are located. These skin tumors can become ulcerated, infected, or extremely swollen leading to pain and systemic illness.
In dogs with systemic metastasis of their disease, you may see them become:
weak,
lethargic,
have a poor appetite, or
develop vomiting or diarrhea.
With degranulation of tumors, they can experience:
low blood pressure,
breathing changes,
pale gums, and
collapse.
What should you do when your dog is in the final stages?
Dogs with aggressive or metastatic mast cell tumors may have limited time. You and your veterinarian will work hard to provide palliative options to keep your dog as comfortable as possible. These options may include pain medication, especially if they have masses causing discomfort. Anti-nausea medications and appetite stimulants will be used to encourage good nutritional intake. Antibiotics can be administered to keep infections at bay.
As pet owners, our job is to keep our pets as comfortable and happy as possible:
Make sure they have a comfortable place to rest.
Allow them to dictate their own exercise. Some dogs will still have great energy levels, while others may get tired more easily.
Provide them with things they enjoy like their favorite toys and treats.
Entice them to eat if they are no longer interested in their dog food with pet-safe foods like chicken, ground beef, turkey, eggs, and salmon. Read our 9 tips to get a senior dog to eat.
Understand their time left is precious! I personally love the idea of making a small bucket list of enjoyable things to do with your dog in their final days.
Disclaimer: This content is not a substitute for veterinary care. Always consult with your vet for health decisions. Learn more.
When is the right time to stop fighting mast cell tumors (and euthanize your dog)
As pet owners, it never feels like the right time to say goodbye. This is why is it so important to have a close relationship with your family veterinarian or veterinary oncologist. They will discuss your pet's cancer diagnosis and review their quality of life-based on your perception at home.
There are several quality-of-life scales available to provide an objective measure of their current state of wellbeing. These can be used throughout the course of treatment to help determine when the time may be right to say goodbye. Many owners will want to exhaust all treatment and palliative options before saying goodbye, but this is an extremely personal decision. Consider the following factors:
I prefer using the HHHHHMM Scale to determine the quality of life. It evaluates 7 categories of wellness to determine how comfortable and happy your pet is.
Hurt – assessment of pain and comfort.
Hunger – is your pet eating regularly?
Hydrated – is your pet becoming dehydrated?
Hygiene – is your pet able to keep themselves clean, especially when going to the bathroom?
Happiness – does your pet still find joy in day-to-day activities?
Mobility – is your pet able to get up and walk with minimal assistance? Do they enjoy going for walks?
More Good Days than Bad? – do the good days outnumber the bad, or vice versa?
Each category is scored using a scale of 0-10, with 10 being excellent. A total of greater than 35 points is considered to be an acceptable quality of life.
The process of saying goodbye
There are several options available for owners who wish to euthanize their pets. In-home euthanasia services are becoming more widely available for pet owners. Mobile veterinarians will come to you and assist you in saying goodbye to your dog in the comfort of your home. Otherwise, your veterinarian will have you bring your dog to the clinic and walk you through the process when you are ready. Almost every veterinarian will be able to provide a service to cremate your pet if at-home burial is not preferred by your family. I chose to have my pet cremated and I have a memory box with his ashes.
Conclusion
Many dogs can have a wonderful quality of life with mast cell tumors, but there may come a time when we need to consider saying goodbye. Fighting cancer is hard on the pets and family, but having a close relationship with your vet and an understanding of your pet's needs will make the process easier. Our job as veterinarians is to support you and your pet with the goal of making their final days as comfortable as possible.
Related Articles About Mast Cell Tumors: