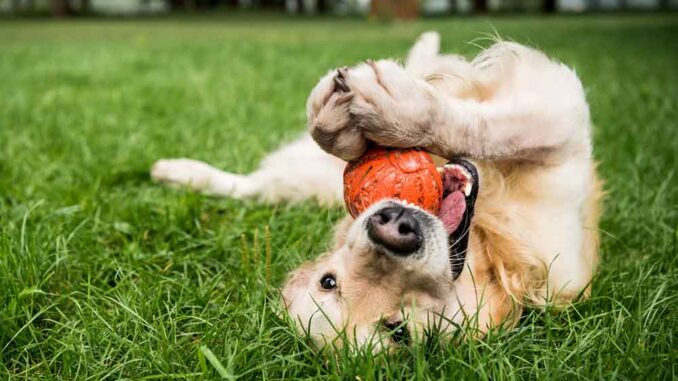 This article was updated on September 11th, 2023
The best senior dog toys are designed to meet the special needs of older dogs, while still providing the fun your pooch expects (and deserves).
Because many old dogs have reduced senses in terms of sight, hearing, and even smell it's a good idea to look for dog toys that are:
Brightly colored
Scented
Noisy (squeakers, crinkly fabrice, whistling etc.)
Flavored
For older dogs with fewer, or more brittle, teeth and/or sensitive gums, soft toys are always a hit. There are also rubber toys that have been manufactured specifically for older dogs which use softer, more pliable rubber to be gentle on senior dogs mouths. And don't forget that senior dogs can still benefit from interactive toys that challenge them just a little to help keep their brains active.
Senior Dog Toys That We Love
This page features the best in chewy, squishy, squeaky, challenging, cuddly, tasty dog toys that will be perfect for old dogs of every size and breed. We have made a long list of the best senior dog toys, and checked the Amazon ratings to make sure other customers also loved them!
We hope that the guidelines and suggestions below will help you find the perfect toy for your golden oldie. These are just a sample of the great options available for you to choose from, and as long as you bear in mind the things that make a toy suitable for a senior dog you'll find that the possibilities are enormous.
1. The Legendary Kong Treat Dispenser
The legendary KONG now features a Senior Kong designed specifically for our older dogs:
Made from a slightly softer rubber which still lives up to the durability which Kong is so famous for. Add some tasty treats or filling and it'll keep your golden oldie happy and busy.
Check out the Kong toy in action in this video:
Your senior dog would enjoy this toy for hours if you stuffed it with:
Plain yogurt
Applesauce
Canned dog food
Xylitol-free peanut butter
Pureed canned veggies
Canned sweet potatoes/yams
Try filling your dog's Kong and then partially freezing it for extra long playtime.
2. Brain Exercising Toys.
Brain exercising toys can help entertain senior dogs who may no longer be able to participate in intense physical games. Many dog owners don't consider brain exercise to be exercise. But when your dog is mentally tired, they're still tired.
Brain toys for mental stimulation encourage your dog to think about how to use its nose or paws to extract treats hidden inside. There are various levels of brain toys, and you should consider a more accessible level for your dog at first. You may also need to show your dog how to use the toy initially until he/she gets the hang of it.
My favorite brand of brain toys for dogs is Nina Ottosson by Outward Hound toys. This interactive puzzle game toy for your dog is a fantastic option:
Why?
There are four different levels, from beginner to expert, and various configurations to keep your dog's interest.
The StarMark Bob-A-Lot Interactive dog toy is another great choice for exercising your dog's brain. The "adjustment gate" on the bottom can be configured to have a narrow or wide opening, accommodating different sizes of treats and making it more challenging to get the goodies out.
3. Snuffle Mats
Snuffle mats are great for keeping your older dogs busy. Some older dogs have difficulty getting around; others may have sight issues. Snuffle mats take just your senior dog's nose and mouth to use!
Take small treats, freeze-dried liver, or food and place them on the mat. Then, let your older dog have a great time sniffing them out! Snuffle mats are easy to clean because you can throw them in the washing machine! And, dogs sniffing out treats in a snuffle mat can equal the same amount of calories burned in an hour's walk.
We tried this snuffle mat on our own dog Maggie – a rescue dog who is missing a few teeth and doesn't particularly enjoy physically demanding activities. She adores her snuffle mat! See the video below:
We tried this snuffle mat:
But recommend this snuffle mat – which is more expensive but will keep your senior dog busy for a longer time:
Check out a video of this snuffle mat in action:
4. Balls for Senior Dogs
Planet Dog toys can also be great for senior dogs. You can click on the links and they'll take you to amazon where you can see them, and read about them.
Planet Dog Orbee-Tuff Ball – These balls were specifically designed to meet the challenges of senior dogs such as weaker jaws, dental problems, reduced vision and more.
Soft but chewy, extra-minty and high contrast colors, especially for our golden oldies. These are USA made, non toxic, recyclable and bouncy.
Older dogs like to play fetch too but may have a harder time finding the ball. Chuckit's Whistler Ball can help. Does your senior dog love to chase down a ball but has trouble seeing where it landed? This whistle ball has the answer to this problem. The ball makes a whirring/whistle when thrown.
Sticking with the ball category, here are two more toys that ball-loving dogs will enjoy:
5. Soft Dog Toys for Senior Dogs
Every dog I've ever met (regardless of age, breed or size) has LOVED soft, stuffed toys. The downside of these is that power-chewers, large breeds, terriers, as well as pretty much any determined pooch, can destroy them fairly quickly.
This is where older dogs sometimes win because their teeth, gums and jaws are not as strong as they used to be… plus their urge to chew things up is much less than with a puppy or an adolescent or younger adult dog.
Choosing a soft toy that makes a noise of some sort is a good bet for older dogs. Some toys below have a whole array of squeakers so that it's easy for your senior dog to find one with his mouth.
There's even one which has a 'silent' squeak which is only audible to dogs (the yellow starfish) – and they seem to love it. Even seniors like to wrestle a bit with some toys, so choosing one that is floppy or has long skinny limbs that can be thrown around can be popular too.
From soft and squishy, to stuffingless, to crinkly… these stuffed toys will be a hit with your golden oldie.
6. Tasty Treat Toys for Older Dogs
Although your older dog's sense of smell and taste may not be as robust as it once was, he still enjoys the flavor of a well-chosen treat! Let your old friend exercise his jaws and enjoy the Everlasting Treat Ball or the delicious (to dogs!) Yak milk chews.
The Yak Chewz are safer than rawhide, and a great alternative to natural bones or antlers which can be too harsh for a senior dog's teeth.
7. Frosty Cones.
The Pet Safe's Frosty Cone is another excellent option! Keep several in the freezer at once because they're stackable. You'll have one ready to go anytime you need to keep your senior dog busy!
See it in action in this short YouTube video from PetSafe:
You can try liquids like:
Low-sodium chicken broth
Water
Canned food blended with water
Or more solid options like:
Squeeze cheese
Kibble
Kong Stuff'n
Dog safe ice cream
8. Dental Chew Stick Dog Toys
Some older dogs aren't interested in chewing for fun, but many are. Chewing is a natural canine stress-reliever, so encouraging anxious dogs to enjoy chomping down on a safe toy can be helpful. Chewing also helps keep teeth clean and jaws exercised.
Playology's Peanut Butter Scent Dental Chew Stick Dog Toy is another fantastic option for senior dogs who do like to chew. This gentle rubber treat is infused with scent particles released as they chew. The deep rubber grooves help clean your dog's teeth, leaving their breath fresher.
This toy is also easy to clean, so even if your dog takes it outside, it can be washed off easily without washing the scent particles off.
Have fun and good luck to you both.
9. Planet Dog Orbee-Tuff Bones
This bone is made from the same material, and with the same super-minty taste, as the Old Soul ball that used to be a hit with senior dogs but is unfortunately no longer available. Plus it makes a satisfying clicking sound when your dog bites down on it.
10. Lickimats
Lickimats are an excellent boredom buster option for your dog; they reduce destructive behavior and keep your dog engaged and happy.
Use spreadable options like:
Xylitol-free peanut butter
Applesauce
Canned sweet potatoes
Plain yogurt
Canned dog food
Playtime is an essential part of any dog's day, and getting older doesn't change that.Hopefully the senior dog toys on this page have given you some ideas for items you'd like to share with your senior dog.
You may need to change the intensity and duration of play, but keeping your golden oldie's body active and his mind engaged is a great way to help him stay healthy both mentally and physically.
You may also like to check out my article on Exercising Older Dogs. It covers everything from the humble daily walk to physical therapy and everything in between, plus links to equipment which can make getting around easier for senior dogs.