Your situation:
✓ your dog is a senior dog
✓ your dog is no longer eating or not eating much
✓ your dog is not showing other obvious signs of illness
(If this is NOT your situation, click here.)
There are many reasons causing older dogs to stop eating but otherwise appear and act normal (Not showing any other obvious signs of illness such as vomiting or diarrhea). Potential reasons include:
Your dog may just become a picky eater
Your dog may have the beginnings of a gastrointestinal disease
Your dog may have dental issues
Your dog may have something stuck in their mouth
Many times you can quickly figure out why your dog is not eating and fix the issues. Other times you may need help from your vet to determine the cause of your dog not eating. Let's discuss what you can do.
Steps You Can Take at Home to Help A Dog Who is Not Eating but Otherwise Acting Normal
Some dogs will become picky as they get older. This can also be the first sign that your dog is about to develop a gastrointestinal issue or some other medical issue. There are some things that you can do at home to help your dog eat such as:
1. Make His Meals Taste Better, Smell Better
The senses of senior dogs are changing. If your dog is no longer into his food because it just doesn't taste or smell as appealing as it used to, it's only natural that your dog won't be as excited about eating it.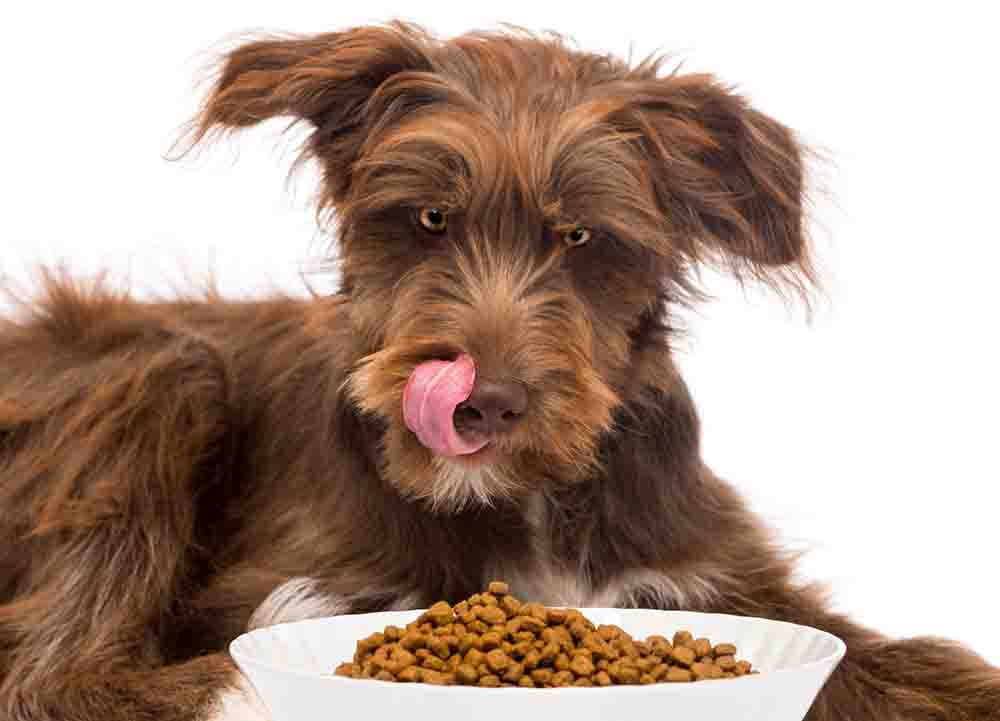 To make your dog's meals appealing, your can try the following.
PEDIGREE CHOICE CUTS in Gravy Adult Soft Wet...
Contains eighteen (18) 3.5 oz. pouches in PEDIGREE CHOICE CUTS in Gravy Adult Wet Dog Food Variety Pack: (6) Beef, Noodle & Vegetables Flavor in Sauce (6) Grilled Chicken Flavor in Sauce, (6) Filet Mignon Flavor in Gravy
Or clear (low-sodium) chicken broth:
Brutus Bone Broth for Dogs 64 oz | All...
SUPPORTS JOINT HEALTH: Every serving of Brutus Bone Broth for dogs is infused with Glucosamine and Chondroitin to support healthy hips and joints in all dogs including puppies and older dogs.
Add warm water to low-fat peanut butter until it becomes liquid:
Bark Bistro Company, Ruff Ruff Raw Buddy...
✔️ HEALTHY DOG TREAT - if you wouldn't eat its why would you feed it to your dog, aka your furry family member? That's why we made an all natural peanut butter for dogs that's fit for human consumption. It two simple ingredients peanuts and honey. Theres no high fructose corn syrup, stabilizers, xylitol, artificial sugar, or salts.
Your senior dog might also love a little extra canned (wet) dog food, low-fat cottage cheese, dried Parmesan cheese, egg-whites or canned green tripe added to his food. You can try this green lamb stripe booster:
We recommend that you always consult with a veterinarian before changing your dog's diet. For example, you should be aware that some some low-fat Peanut butters contain Xylitol (an artificial sweetener) which is very toxic to dogs. Make sure to read the label of any product you buy first. Or even better, buy dog-specific peanut butter:
Bark Bistro Company, Ruff Ruff Raw Buddy...
✔️ HEALTHY DOG TREAT - if you wouldn't eat its why would you feed it to your dog, aka your furry family member? That's why we made an all natural peanut butter for dogs that's fit for human consumption. It two simple ingredients peanuts and honey. Theres no high fructose corn syrup, stabilizers, xylitol, artificial sugar, or salts.
2. Warm your dog's food in bone broth
If his kibble is mixed with gravy, canned food or one other suggestion above, try heating the whole meal a little. This makes it smell tastier and releases the flavor more easily.
---
WATCH: 3 Important Tips To Care For an Old Dog [VET VIDEO]
---
If your dog is mostly eating dry food, try soaking the kibble in bone broth for 5-10 minutes. Bone broth is tasty, nutrient dense and easy to prepare. It's an all-natural superfood! Perfect for dogs that have lost appetites or to encourage sick or convalescing dogs to eat more. Read our page on Bone Broth for Senior Dogs.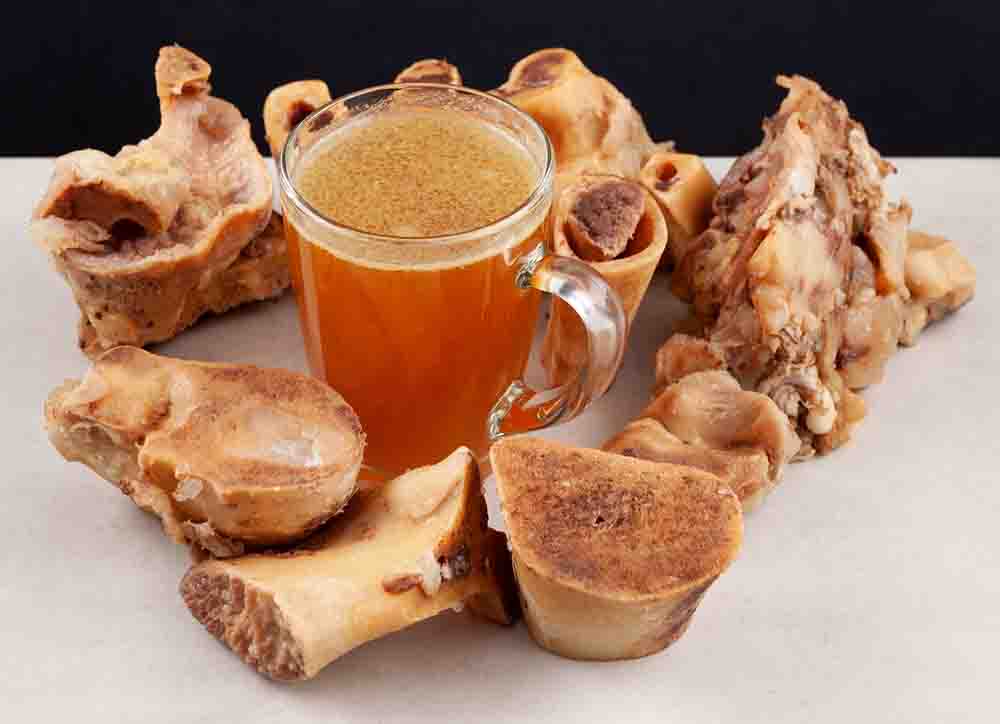 3. Add a little variety
Your senior dog may be trying to get tastier meals by turning down a certain food for a couple of days! Adding a little variety at least 3-4 times per week might help your dog eat more.
4. Use wet food
Canned/wet food can be a good option for older / senior dogs. For an older dog who's not eating well, sometimes a change in food can help. If you've always fed dry kibble, then now might be the time to start mixing a little canned food in with the dry.
Senior dogs with dental problems often find it easier to eat soft food rather than hard kibble.
Canned dog food contains a lot more water than dry food (obviously!) so it's also a good way to get more fluids into your older dog.
But there is a downside to canned food… there's less nutrition in it per cup when compared to kibble. Feeding canned food alone isn't a great choice unless you have a very small dog (big dogs really can't eat enough canned food to fulfill their nutritional needs, and you're on this page because you're having trouble getting your old dog to eat at all)
Soaking the dry kibble in warm water (or broth) and then mixing it with canned food will give you the best of both worlds and is what I tend to do when I'm trying to tempt a dog to eat more.
5. Feed your dog less, but more frequently
A big meal might be too much for your older dog to stomach, but a smaller portion (especially if you use one of the above tips to make it more appealing) might be just what the doctor ordered.
Adult dogs often only eat once a day, but a senior dog usually does better with two (or three) smaller meals.
Every dog is different and you know your dog best, so if you think feeding him a handful of tasty food six times a day is the best way to get him to eat, then do it.
There's no 'one-size-fits-all rule at this point. BUT, don't overfeed him. If you're feeding him three, four, five or even six times each day, divide his daily intake up into that number of portions.
However, this does NOT mean that you should feed your dog more treats or snacks: if your old dog is already eating less, treats could potentially make him feel 'full' and he may no longer have enough appetite for his 'proper' and nutritious meals. So, as tempting as it may be to give that sad old face more treats, you actually need to give him less. Also, make any treats super-healthy ones, that way he's getting something with nutritional value rather than empty calories.
Freeze-dried liver treats or tiny slivers of meat (or ground beef) are my usual choices here.
To learn more about feeding your old dog, read our practical, tried-and-tested tips and advice that will help here…: Getting Older Dogs To Eat.
Usually, if these things do not entice your dog to want to eat, it would be best to see your vet. Your vet will want to run bloodwork to see what is causing your dog to stop eating. Usually, after a day, you will start to see other symptoms that will help determine why your dog is not eating. For more information & more great tips to help your dog eat more, read this article, or continue scrolling to find out exactly when you should call your veterinarian.
At What Point Should I Call The Vet?
If your dog does not start to improve with at-home treatment after 12-24 hours you should see your vet. Some conditions are considered medical emergencies and one should not try any at-home treatment.
The severity is mentioned in the description of the disease. These are other conditions that would indicate that you need to skip the at-home treatment and see your vet right away:
Bloody vomit
Extremely Bloody diarrhea
Very Lethargic
Seizures
Difficulty Breathing
Pale Gums
Bloated Abdomen
Bleeding that you cannot get to stop
Vomiting for more than 24 hours or more than 4 times a day
Diarrhea that has not improved after 24 hours
All of these issues should see your vet right away. These signs can indicate a major health condition. Go back to our article about older dogs not eating to learn more:
Disclaimer: This website's content is not a substitute for veterinary care. Always consult with your veterinarian for healthcare decisions. Read More.