This article was updated on November 2nd, 2022
Demand for dog Cannabidiol (CBD) products is skyrocketing, as indicated by Google Trends data. CBD is a chemical derived from the hemp plant, and is commonly used for reducing pain and anxiety in dogs.
AHREFS, a leading search data analytics company, estimates that there are over 475,000 average monthly searches for terms related to CBD or other cannabis-related products for dogs (Source: Ahrefs). Grand View Research published a report estimating an average annual growth of 58.9% from 2021 to 2028. Yet, there are no FDA-approved CBD products for pets.
Google Search Popularity Indicator
Below is a graphic showing the dramatic increase in the number of searches for CBD, Hemp, TLC and Marijuana related information for dogs: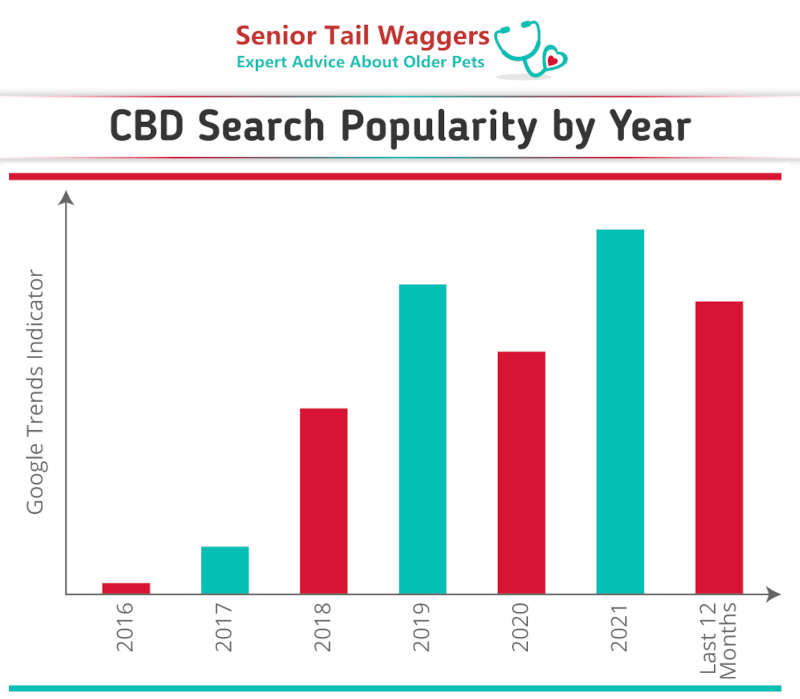 CBD Searches by Health Condition
Due to limited studies and reports available on CBD for animals, dog owners are turning to Google to find information on CBD products to help manage pain, arthritis, seizures, allergies, hyperactivity, anxiety, cancers, joint issues, and other health problems, in their pets. According to Ahrefs, there are over 39,000 dog CBD searches per month enquiring about specific health conditions (For example, "cbd dog treats for anxiety" – 3.1K searches per month, and "best cbd oil for dogs with arthritis" – 2.3k searches per month).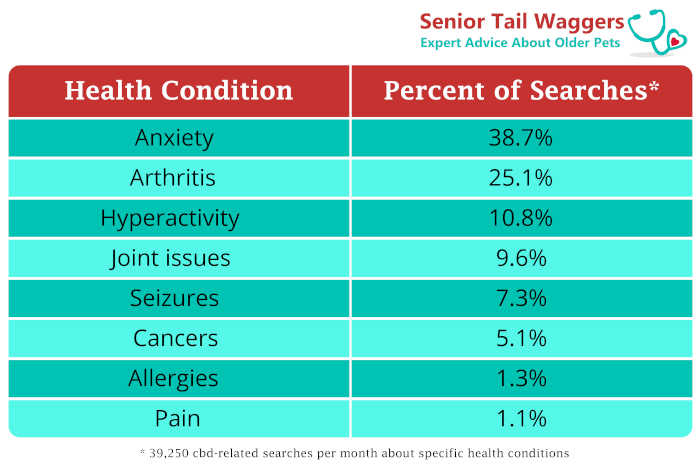 Julie Burgess shares her personal experience using CBD products for her dogs: "I give our dog CBD daily, twice daily for pain control, and have for years. Zeus is an 11-year-old shepherd mix and feels his age many days. CBD's ability to provide pain relief without side effects is fantastic! I also previously gave it to our other dog, Maya, who suffered from severe anxiety. CBD helped her more than most medications, and because it doesn't contain THC, it didn't make her "high." (Julie Burgess is also a Certified Dog Trainer for Senior Tail Waggers).
CBD Searches by Retailer
Amazon was the retailer that was the most often searched for in relation to queries about CBD products for dogs:
---
WATCH: 3 Important Tips To Care For an Old Dog [VET VIDEO]
---
CBD Searches by Product
Among products most often searched by dog owners, oil and treats accounted for over 90.0% of searches (combined):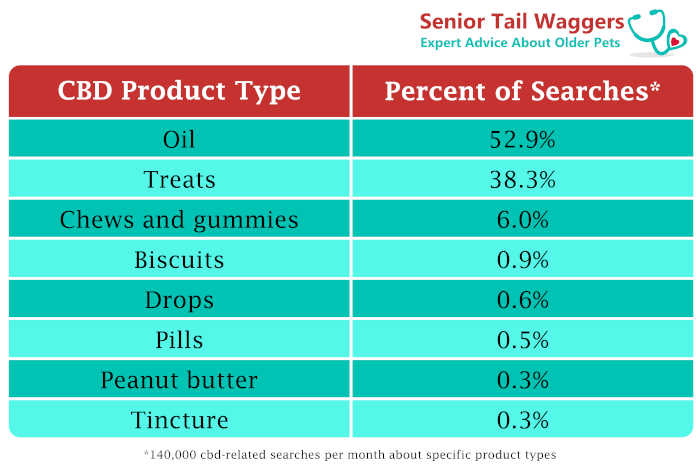 Top States with Most CBD Searches
Interestingly, of the top 10 states accounting for the most queries (according to Google), only 7 have made CBD "fully legal": New Mexico, Wyoming, and Missouri are part of the 33 states that have made CBD only "conditionally legal" (often excluding or restricting sales of products with TLC):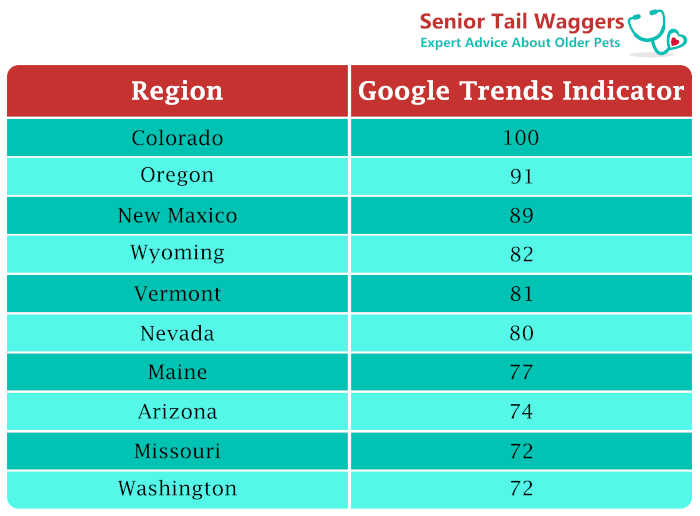 Interesting Facts About CBD
In October 2021, Martha Stewart introduced Martha Stewart CBD products for pets, available to purchase on websites such as Shop Canopy.
Petco, Petsmart and Amazon sell hemp products for dogs. The 2018 Farm Bill removed hemp, which includes low-THC derivatives of cannabis (such as CBD products), from the definition of marijuana in the Controlled Substances Act (CSA). (Source: FDA.gov)
In June 2018, FDA approved the first CBD drug Epidiolex1 for the treatment of seizures associated with two very rare and severe diseases in humans. The active ingredient in this drug is CBD.
Risks of CBD Products for Dogs
Dr. Jamie Whittenburg (DVM), veterinarian director at Senior Tail Waggers cautions that "There are no FDA-approved CBD products for pets, and more studies need to be performed investigating whether or not CBD has any utilization in veterinary medicine. CBD can be dangerous for pets for many reasons. First, because some products contain THC in addition to CBD, and toxicity can occur. Frighteningly, some of these products with THC are even labeled "for pet use." Secondly, because CBD products are technically nutraceuticals and therefore are not regulated by the FDA, there is little quality control or testing." (Additional comments available upon request).
Veterinarians in most US states are not allowed to recommend these products to their patients. For many veterinarians, the fear of legal repercussions and uncertainty about the CBD products available prevents them from recommending or even legally discussing cannabis use with pet owners (learn more on PreventiveVet or FDA.gov). Yet, CBD or hemp products are readily available online or in local pet stores. The hope is that there will be more research into and regulation of CBD products for dogs so that veterinarians can advise dog owners on the safest way to utilize them to improve their dogs' quality of life.
Despite the hype among dog owners, there are still very few studies on the effectiveness of CBD products for dogs. Dr. Carolyn Chen (DVM), veterinarian at Senior Tail Waggers, states that "The few studies on CBD use in dogs have mostly focused on its use as an adjunct therapy for osteoarthritis and seizures due to epilepsy. In a pilot study by Colorado State University1, CBD use in epileptic dogs caused a significant decrease in seizure frequency. In a Cornell University study, dogs with osteoarthritis2 showed a decrease in pain and increase in activity with CBD use."
Anecdotal stories show that these products can be effective to help with pain management and anxiety. However, there is not high confidence yet that these products can really help animals. CBD products could even prove to be dangerous for your pets – for example if they are used as substitutes for proven therapies.
The FDA states that "The FDA has seen only limited data about CBD safety and these data point to real risks that need to be considered before taking CBD for any reason. Some CBD products are being marketed with unproven medical claims and are of unknown quality." (Source: FDA.gov).
Available To Answer Questions and Provide Expert Comments
Members of the press or professional pet writers can contact us with questions or requests for expert comments:
Dr. Carolyn Chen (DVM), Veterinarian at Senior Tail Waggers.
Dr. Carolyn Chen graduated with a Doctorate in Veterinary Medicine from Western University in 2016, and has since worked in general practice, urgent care, and end-of-life care services for several veterinary hospitals and clinics. She is a veterinarian writer at Senior Tail Waggers.
Julie Burgess, CBD Product User for Her Dogs
Julie has used CBD products for pain control for her dog for several years. She also previously used CBD products for another dog to help with anxiety. She is a Certified Dog Trainer (CPDT-KA) at Senior Tail Waggers.
Nicolas Mottet, Owner and Director, Senior Tail Waggers.
Nicolas Mottet graduated with an MBA from the Northwestern University MBA graduate program at Kellogg in 2010. He has worked for nearly 10 years at Amazon in the Seattle HQ, most recently as a Principal Manager. Nicolas is now the owner and director at Senior Tail Waggers.
About SeniorTailWaggers.com
Senior Tail Waggers is a popular online dog veterinary website with 2.3 million yearly users. The website content is written almost exclusively by licensed veterinarians and certified dog behaviorists. Meet our veterinarian team.
For any inquiries, please email: nicolas.mottet (at) SeniorTailWaggers.com