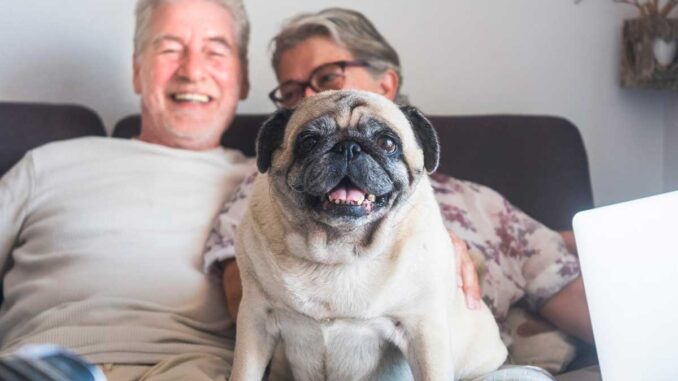 Pugs are small and sweet dogs with big expressive eyes and innocent faces that could melt the coldest of hearts. They are the perfect dogs for seniors and retirees who have a lot of time and love to give.
Are pugs good for seniors?
A pug is a whole package dog often referred to as "multum in parvo" in Latin. This phrase meaning "much in little" perfectly explains a pug's BIG personality packed in his small body. With this little guy, you are getting comical antics, never-ending cuddles, and a whole lot of love. All the things that seniors love about dogs. Here are some more reasons why a pug would be the ideal dog for old people.
Pugs are sweet-natured
Never have we ever seen an aggressive pug. And we're sure neither have you. Pugs are the epitome of sweetness in animals. Their childlike nature makes them always want to follow you around like your own shadow. They crave love and belly rubs. Seniors particularly like dogs that are easy to get along with and make affectionate companions.
Pugs are homebodies
Seniors love dogs that are happy to be homebodies. Pugs are low-energy dogs and don't require a lot of walking and playtime. In fact, they spend more than half of their day sleeping (around 14 hours). They will be content snuggling and snoozing with you on the couch. They need moderate exercise which can be done inside the apartment as well. So seniors who may have limited mobility won't have to worry about daily walks. A little exercise can go a long way.
… and they are quick learners
Pugs are smart dogs. Don't mistake his lounging on the sofa all for nothing. He is observing you and picking things up. This quality also makes him easy to train. Pugs also don't bark a lot and quickly adapt to a small senior housing.
What are the downsides for seniors?
They shed a lot
The only real downside for seniors would be the shedding. Pugs shed constantly, every day. So to keep his coat healthy, you will have to brush it daily.
Go back to dogs for old people.
Disclaimer: This website's content is not a substitute for veterinary care. Always consult with your veterinarian for healthcare decisions. Read More.