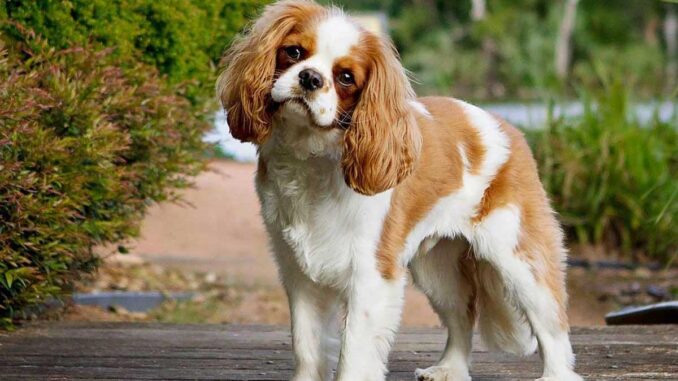 Docile and diminutive, cavalier king charles spaniels are one of the most loved breeds but are they good for seniors?
Are cavalier king charles spaniels good for seniors?
The Cavalier is a puppy-like spaniel popular among the seniors and there are good reasons why.
The cavalier is affectionate
Seniors (or everyone for that matter) love to be loved. A Cavalier is an incredibly affectionate dog who would dote on you and be your closest companion. Nothing makes a Cavalier happier than snuggling with his owner. He will follow you around from the kitchen to the bathroom waiting for a chance to jump in your lap. Senior couples and retirees would make perfect owners for these sweet, cuddle-craving dogs.
The cavalier is adaptable
The cavaliers are among the most suitable dogs for seniors because of their adaptable and obedient nature. They can easily settle into any kind of lifestyle. They would be happy to sit by you on the couch all day and spring into action when you're ready to play. Training them is also a breeze thanks to their intelligence.
They need a moderate amount of exercise. Short walks or playtime in a small yard would be adequate for their exercising needs.
The cavalier is a quiet dog
Now that you are retired and done with the chaotic corporate life, you would want to spend your time peacefully and quietly. A cavalier does not bark unnecessarily and always wants to please its owner. He will mostly try to get your attention by following you around or wiggling his body. A Cavalier will quickly pick up your habits and let you finish that book in peace.
What are the downsides for seniors?
Regular grooming
A cavalier's beautiful coat requires regular grooming to stay beautiful. Their long and lustrous hair can get painfully matted and tangled if not brushed daily. Leaves, twigs, dirt, and feces may also make home in their coat if a lot of outdoor playtime is involved. Frequent visits to the groomer are also expected, something that many seniors might not be up for.
Drooling
The one downside often called out by older people who own a Cavalier King Charles Spaniel is that this breed tends to drool a lot. A Cavalier King Charles Spaniel who affectionately comes to you and puts their heads on your laps may end up leaving wet spots on your clothes.
Long ears need to be cleaned regularly
Seniors also often find it challenging to clean their ears regularly. Their long drooping ears can easily fall in water or food bowls collecting materials that may cause infections if allowed to stay longer.
For seniors who don't mind the regular grooming, a Cavalier would be the perfect dog. Because if you ever feel lonely, you know you have a gentle, loving soul to comfort you.
Go back to Best Dog Breeds for Older People.
Cavalier king charles spaniel photo gallery
Disclaimer: This website's content is not a substitute for veterinary care. Always consult with your veterinarian for healthcare decisions. Read More.