Intervertebral Disc Disease in dogs (also known as IVDD) can happen at any age, but it's most often seen in the 'long-bodied' breeds.
When it appears in older dogs who haven't previously had any back problems it's often the result of the normal wear-and-tear on the vertebrae/spine.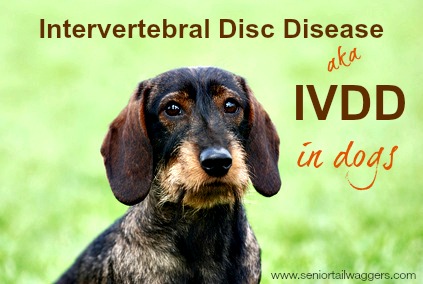 Chondrodystrophic breeds (those with long bodies) include Dachshunds (the breed with the highest incidence of IVDD), as well as Basset Hounds, Corgis, Lhasa Apsos, Pugs, Boston Terriers, Pekingese and more.
Basically any purebred dog (or mixed breed) who's bloodlines are from breeds whose physical characteristics show long bodies and short, often crooked legs (front feet turn outwards) is at risk.
It can be mild, moderate or serious, and left untreated can cause significant problems including permanent paralysis.
IVDD can also affect younger dogs, and when this happens it might be as a result of a genetic weakness or injury.
This page covers the symptoms and treatment options for IVDD, as well as tips on what you can do to try to prevent or minimize problems in the beginning.
My daughter's Dachshund, Knox, is living with IVDD, so we have personal experience of this condition and I hope this page will help you to help your dog.
What Is Intervertebral Disc Disease?
Your dog's spinal column is a series of bony vertebrae separated by intervertebral discs which are like cushions between them.
These discs are like small cushions, soft and pliable, with a tough, flexible outer layer and filled with a type of jelly-like fluid.
In older dogs wear and tear on the spine can cause the discs to degenerate. The outer layer thins and hardens, and the gelatinous liquid inside can become dry, hard and brittle.
This either puts pressure on the spinal cord, or causes cracks in the outer layer which eventually become holes.
If either of these things happen the vertebrae are no longer 'cushioned' and whatever was inside the disc is now pushed out and it compresses the spinal cord and causes pain and nerve damage (see Symptoms below).
This problem is most likely going to show up in dogs who are five years of age or older.
Studies show that the most common time for intervertebral disc disease to appear in older dogs is between 8 and 10 years of age. It's known as Hansen Type II IVDD.
Type II IVDD tends to come on gradually over time and is more of a chronic condition.
Most older dogs, of all breeds, suffer from some degree of deterioration or degeneration of bones and joints (Arthritis is also part of this common problem).
But in senior dogs who aren't 'at risk' breeds (and even those who are but who don't have the genetic factor and who haven't injured themselves), this degenerative process doesn't necessarily lead to IVDD.
When IVDD shows up in younger dogs it's most likely due to it being a hereditary problem.
The tendency to suffer from IVDD has literally been passed down from parent to puppy, and dogs as young as 1 year old can show symptoms. This is Hansen Type I IVDD.
Type I IVDD is frequently 'acute' with an 'episode' (appearance of symptoms) coming on suddenly, and often without any early warning symptoms.
In younger dogs IVDD can also be caused by environmental factors and activity.
The longer the spinal column, the more risk there is of damage from stress-related injuries.
Twisting in the air, jumping up onto (and off of) furniture or into and out of cars, running on hard surfaces such as concrete or playing 'rough' with other dogs can all lead to damaged vertebrae.
Whatever causes the damage to your dog's spinal discs, the potential results are the same…. pain, loss of mobility, possible nerve damage, even paralysis.
Symptoms of IVDD In Dogs