This article was updated on April 5th, 2022
Getting old isn't a crime, but senior dog rescue organizations are full of elderly dogs who have been abandoned for that very reason. Hard to believe isn't it?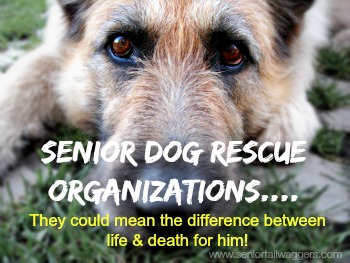 How could someone 'throw away' a loyal, faithful and loving friend just because he's not as spry, healthy or active as he once was?
I find it impossible to understand this, but I know that it happens.
Thank goodness there are amazingly dedicated people across the country who devote their time, energy and money to helping older dogs.
They give these seniors a chance to spend their senior years in safe, comfortable homes where they're loved and cherished, instead of cold, lonely and scared on a concrete floor.
If you're thinking about adding a dog to your home, PLEASE consider adopting an older dog.
There are so many reasons why this is a win-win situation for everyone, and you'll find them all on my Adopt An Older Dog page, so don't forget to check that out.
On this page I've put together a list of the organizations and groups that focus on caring for, fostering, and adopting older dogs.
Why not give one of their golden oldies a second chance? I can tell you from personal experience that it just might be one of the best things you ever do 🙂
Senior Dog Rescue Groups
There are lots of places where you can find abandoned and lonely senior dogs who are waiting for their forever home.
Sadly, way too many of them will never get the happy ending they're hoping for because this is a group who are all to quickly put on the 'red list' (scheduled for euthanasia) for one reason or another.
And many potential adopters 'forget' to consider older dogs in their search, which is a crying shame because these oldies make fantastic pets and are so grateful for that second chance.
Your local city pound, shelter or organization will definitely have older dogs available, and as many big organizations are 'kill-shelters', to my mind they are the best place to start. That's where the seniors are most at risk.
There are also many private, non-profit organizations dedicated to helping this very needy doggie demographic. Here are just a few of them:
Quote from their website:
"Muttville is a nonprofit organization dedicated to changing the way the world thinks about and treats older dogs, aged seven years and older, and to creating better lives for them through rescue, foster, adoption, and hospice"
Disclaimer: This content is not a substitute for veterinary care. Always consult with your vet for health decisions. Learn more.
This 501 (c) (3) non-profit organization is a no-kill rescue and is located in the San Francisco Bay area.
Muttville rescues over 500 senior dogs each year.
Visit the website: www.muttville.org
---
WATCH: 3 Important Tips To Care For an Old Dog [VET VIDEO]
---
Organization's Mission:
"To provide a safe and loving home for senior large breed dogs who have been displaced from their homes and/or abandoned for any reason, until adopted or to remain at the sanctuary until they pass on."
A 501 (c)(3) non-profit organization located in northern California.
Founded in memory of Lily, a rescued Senior Golden Retriever, Lily's Legacy is devoted to finding permanent loving homes for large breed seniors who are perhaps the dogs least likely to get a second chance at love.
Visit the website: www.lilyslegacy.org
This small 501 (c)(3) non-profit rescue group uses a network of foster homes to give safe refuge to abandoned senior dogs.
Whenever possible these dogs are found permanent, loving homes. Others are loved and cared for until they pass away.
Old Dog Haven is located in Washington State, and with around 200 dogs in their care at all times there's always a demand for foster or adoptive homes.
Visit the website: www.olddoghaven.org
Based in Cleveland, Ohio, this 501 (c)(3) non-profit organization is dedicated to serving senior dogs in need.
An excerpt from their mission statement includes:
"Our mission is to….. provide lifelong quality care for rescued senior dogs…. to adopt appropriate dogs into loving, permanent homes…. to develop programs that match senior dogs and senior people to their mutual benefit…"
Visit the website: www.sanctuaryforseniordogs.org
A 501 (c)(3) non-profit group based in Jackson, Florida.
Mission statement:
"To give older and senior dogs a second, sometimes third, chance at living out their lives with dignity".
There is no shelter facility, and the sanctuary relies on a network of loving foster homes to help needy seniors.
Visit the website: www.theolddoghouse.org
Search For Adoptable Senior Dogs
There are lots of ways to find the perfect 'golden oldie' for your home.
Start by checking out the local dog pounds and rescue organizations, and then branch out.
You can search online through huge national dog adoption databases which show you dogs in your area, or across the country.
Both Petfinder.com and Adoptapet.com have many, many pets to choose from.
With so many needy seniors, every single adoption helps… and although the problem can sometimes seems so big that it's easy to think that saving one dog isn't enough… it's enough for that one dog!
If you can't adopt, or if you DO adopt, but still want to do more – every senior dog rescue organization needs help in a million different ways.
Food, toys, blankets, towels and other 'necessities' are always welcome. Monetary donations are essential, but if your finances don't stretch to that you can donate your time, energy and love… it's going to be appreciated just as much.