Orthopedic dog beds aren't just for senior dogs, but they are perfect for them!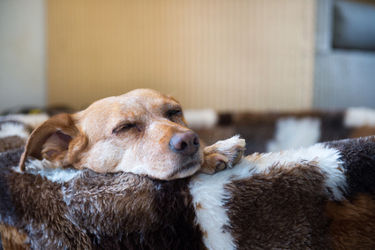 Most are made from memory foam and if you've ever slept on memory-foam yourself, you'll know exactly why it's so popular.
The unique properties of memory foam, makes these dog beds super-comfortable for achy old bones and joints and prevents painful pressure points.
Because older dogs often spend a LOT of time sleeping, you want their bed to be extra comfy, a place where they can go to feel safe and nap or simply watch the world go by.
There are TONS of orthopedic memory foam dog beds on the market, and which one you choose depends on your dog's size and sleeping style, what other features you need, plus your budget and personal taste.
In our family we've owned several of these beds, and I've also polled family and friends and scoured product reviews so that I can help you make the right decision, first time.
Whatever style Fido prefers, whatever decor you want it to match, whichever size you need… there's something for everyone, and every dog.
Here are what I believe are the very best choices available…..
For Extra-Large & Giant Breeds
Our BIG dogs tend to suffer from joint and bone issues more than their average-sized cousins, especially when they're seniors.
Rottweilers are my favorite breed, and although my old girl is very healthy for her age, she's definitely larger-than-your-average big dog.
So I know from personal experience that it's challenging to find a bed big enough, and supportive enough for her.
Plus when I DO find one it's often very expensive!
Below I've featured my #1 pick in this category….
Ortho Sleeper Comfort Couch by Carolina Pet Company
This orthopedic dog bed is BIG (it's much bigger than most other large or x-large beds) and  it's great quality in the mid-level price range.
If your dog loves sleeping on the sofa, he can now have a sofa of his very own!
Available in 3 sizes,  the largest one (48″ x 69″) is perfect for large breeds, even those who like to s-t-r-e-t-c-h out when they're sleeping.
---
WATCH: 3 Important Tips To Care For an Old Dog [VET VIDEO]
---
It's even big enough for two canine siblings (or more, if they're not all big dogs) who like to snuggle together.
The base is 2″ medical grade memory foam which gives good support, and has a zippered, fully removable and machine washable cover made from plush microfiber velvet available in 5 neutral colors to suit most decor.
The removable cushion has a reversible cover, one side is matching microfiber velvet, the other Berber fleece.
Because of it's size and big 'cushy' bolsters, this is a super-comfy bed that's fairly robust.
Best features:
Very roomy and comfortable
Attractive design and good choice of colors
Excellent value for money
Available in 3 sizes
Drawbacks:
Largest size takes up a fair bit of floor-space
Depth & density of memory foam is mid-range (dogs with severe arthritis etc. may need more support)
Not water resistant
Of course, all of these beds come in a range of sizes which are perfect for small and medium sized dogs too!
Disclaimer: This website's content is not meant to be a substitute for veterinary care. Always consult with your local veterinarian for health decisions. Learn more.
Best Water-Resistant Orthopedic Dog Beds
No dog bed is completely water-PROOF, but there are some great water-resistant choices.
These are great for senior dogs who have incontinence problems, for breeds that drool excessively, for outdoor use, and for puppies.
Happy Hounds Orthopedic Bed

Orthopedic memory foam dog bed with a durable, water-resistant cover.

Heavy duty
Reversible design
Removable cover
Fully washable cover
Made in USA
Two color choices
Variety of sizes

Bed shown is  'Large'.

Gel Memory Foam Dog Bed

Supportive foam base, plus gel-infused memory foam, soft outer cover & waterproof liner.

Microfiber cover
Machine washable cover
100% waterproof liner
Mold & bacteria resistant
Dust mite resistant
Available in 3 sizes
Made in USA

Kuranda PVC Dog Bed

An elevated, water-resistant bed that's perfect for outdoor use, camping, road trips etc.

Poly resin frame
Durable construction
Sturdy canvas sling
Water-resistant
Chew-resistant
Lightweight & portable
Easy-clean
Available in 6 sizes and a variety of colors
Disclaimer: This website's content is not meant to be a substitute for veterinary care, diagnosis, or treatment. Always consult with your veterinarian to determine the best course of action. Read More.