by sharon
(Loveland,ohio,usa)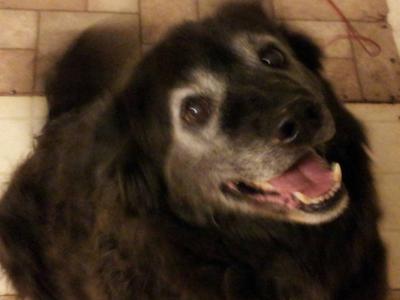 Coakie is a 16 year old long haired black lab/chow mix.
He hops up with a smile for anyone entering the house.
He loves being petted.
He love anything you are eating and will sit at your feet with paws folded and stare with big cloudy eyes until he gets a treat.
He is mostly deaf and has poor eyesight now but his nose works fine…leads him to treats.
He has become a bit "leaky" lately.
He also has to have a couple of tries climbing he two steps into the house.
He snores,lol
His face is all white now. he used to be solid black.
Oh my, look at that sweet frosty face 🙂 Coakie sounds like a wonderful boy and is obviously very loved. Thanks for sharing his photo and telling us about him!
Disclaimer: The information presented on this website is not a substitute for veterinary advice, diagnosis or treatment. We recommend taking your pet to the veterinarian for a full medical exam. Do not give supplements or medication without first consulting with your veterinarian first.