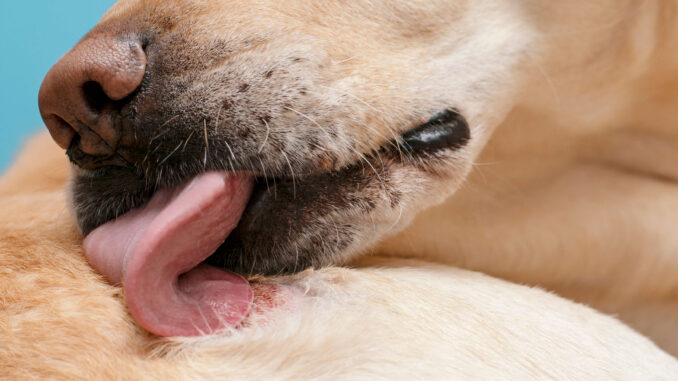 If your dog gets a small wound like a cut or scrape, it's common to wonder what the best natural antiseptics might be to prevent infection and help them heal. Many different natural antiseptics have been described for dogs, from salt water to apple cider vinegar and tea tree oil. Read on to learn more about what you should do to care for your dog's wound – and what you should avoid.
What wounds can be safely treated at home?
If your dog has injured themselves and has a deep cut or open wound it's best to take them straight to the vet for it to be properly assessed. This is especially important if they've been wounded by another animal like a dog or cat as these wounds are very prone to severe infections. If they've received a traumatic injury (e.g. being hit by a car, falling) it's important to note that their external injuries may be very mild but they could have much worse internal injuries. In these cases we would always recommend an urgent trip to the vets.
If your dog has a very mild scrape or small, shallow cut, however, these may be suitable to monitor and see the vet if they are not healing or signs of infection develop.
So, what's the best natural antiseptic for dog wounds?
As a vet, it's not uncommon to see dogs that have been treated with natural antiseptics including apple cider vinegar (ACV), aloe vera and tea tree oil. Unfortunately, many of these – despite being widely recommended – can do more harm than good. Aloe vera can cause irritation in some dogs and ACV and tea tree oil are both very drying and potentially irritating. There are very limited studies on their use in dogs and tea tree oil in particular is toxic to dogs if ingested.
It's important to remember that most wounds – in humans as well as dogs – heal despite the products that are applied, not because of them. Less really is more. Your dog's body will be working its hardest to heal and the cells in the wound are often just as delicate as any potential bacteria – applying strong topical products can kill the healing cells just as easily as any infection.
If your dog sustains a wound, the only natural antiseptic I recommend and use myself is bathing with dilute salt water. Using cool boiled water, mix half a teaspoon of salt with 1 mug (approximately 300 mls) of water. Bathe the wound and gently pat dry. This can be repeated if the wound becomes dirty – but usually after initially disinfecting the wound I recommend leaving it to heal to avoid disturbing the body's natural healing process.
Alternatively, a less natural option is to bathe the area once with a dilute chlorhexidine solution. This is a strong veterinary disinfectant so should only be used once to initially clean the wound, before rinsing, drying and allowing it to heal. It should never be used on sensitive areas like the eyes, mouth or genital regions. You should also discuss your situation with your veterinarian who will know what is best for your dog based on their health profiles and the type of wound.
What else can I do to help at home?
As well as cleaning the wound, there are a few other things you should do if your dog has an injury.
First, it's essential to stop them licking, chewing or scratching at the area. Often a buster collar is needed – an inflatable one may be better tolerated than a plastic one, but this often won't stop your dog reaching a wound on an easily accessible area like a paw. If they're scratching at a wound you can also use baby socks to cover their nails. You should also read our Tips To Stop a Dog From Licking a Wound.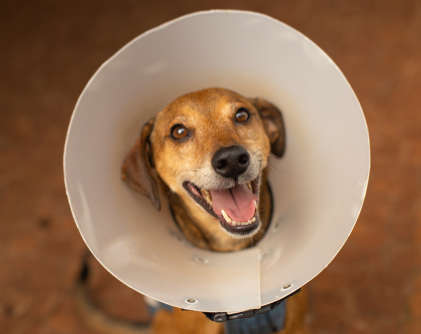 Secondly, you should make sure the area is kept clean and dry – so avoid muddy walks or swimming in rivers and make sure you dry the area thoroughly if it gets wet.
Finally, make sure you check for any other wounds that might not be as visible and monitor your dog for any other symptoms. Signs that an infection might be developing include redness, swelling, malodour and discharge – if you notice pus, the wound definitely needs veterinary attention.
Note – it's often tempting to try to bandage wounds, especially if they're on the paws or legs. This isn't recommended; without proper training and materials, it's very easy to apply a bandage too tightly and restrict blood flow to the leg, potentially causing very serious damage.
Related posts: